Saturday scores and stats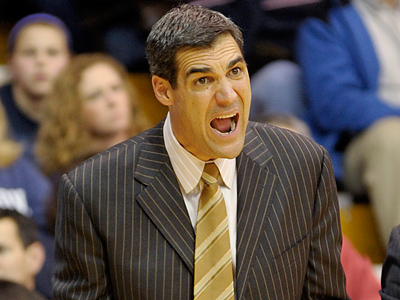 If everything works out, I'll be courtside at Newman Arena this evening to see if Cornell can clinch a share of the Ivy League title.
Saturday scores and stats

ITHACA, N.Y. - Greetings from courtside at Newman Arena, where Cornell can clinch at least a share of its third consecutive Ivy League championship by beating Penn.
I'm tweeting from courtside, so follow along below. You'll also see updates from the Carrier Dome, where Villanova is facing Syracuse and its record-setting crowd. So stay tuned throughout the night.
Here are links to all of today's scores involving local teams. You'll also find the weekly stats compilation, then the live blog.

Drexel 67 at James Madison 64
Penn 48 at Cornell 68
Villanova 77 at Syracuse 95
There's also:

Delaware 66 at Towson 81
DePaul 62 at Rutgers 71
Lafayette 60 at American 78
Delaware State 45 at Hampton 64
Bucknell 62 at Army 51
Princeton 67 at Columbia 52
Holy Cross 80 at Lehigh 91
City Six rankings table


| Team | Record | Conf. | Big 5 | | | | | |
| --- | --- | --- | --- | --- | --- | --- | --- | --- |
| Drexel | 15-15 | 10-7 | 1-2 | 135 (115) | 134 (101) | 136 (120) | 158 (124) | 121 (109) |
| La Salle | 11-16 | 3-10 | 1-1 | 159 (148) | 155 (126) | 157 (145) | 192 (173) | 77 (83) |
| Penn | 5-19 | 4-6 | 0-4 | 308 (309) | 310 (292) | 319 (317) | 312 (303) | 222 (182) |
| St. Joseph's | 9-19 | 3-11 | 1-2 | 207 (195) | 195 (195) | 197 (190) | 215 (207) | 48 (53) |
| Temple | 23-5 | 11-2 | 3-0 | 24 (30) | 14 (14) | 19 (22) | 20 (24) | 61 (59) |
| Villanova | 23-4 | 12-3 | 3-1 | 14 (15) | 8 (7) | 7 (40) | 8 (7) | 26 (24) |
Schuylkill 16 NCAA Tournament teamsheets
| | | | | | | |
| --- | --- | --- | --- | --- | --- | --- |
| Team | Wins | Losses | Top 50 wins | 201+ losses | Avg. win | Avg. loss |
| | 13 | 16 | 0 | 9 | 279 | 186 |
| | 7 | 22 | 0 | 4 | 221 | 113 |
| Delaware St. | 15 | 15 | 0 | 2 | 202 | 98 |
| | 15 | 13 | 0 | 2 | 202 | 86 |
| | 11 | 16 | 0 | 1 | 236 | 67 |
| Lafayette | 17 | 11 | 0 | 6 | 270 | 210 |
| | 18 | 10 | 0 | 5 | 273 | 176 |
| | 12 | 17 | 0 | 7 | 278 | 202 |
| | 5 | 19 | 0 | 9 | 250 | 181 |
| Penn State | 10 | 17 | 0 | 3 | 222 | 90 |
| Princeton | 16 | 8 | 0 | 2 | 241 | 126 |
| Rider | 15 | 15 | 0 | 3 | 220 | 115 |
| Rutgers | 14 | 14 | 1 | 0 | 171 | 52 |
| Saint Joseph's | 9 | 19 | 1 | 0 | 199 | 82 |
| Temple | 23 | 5 | 7 | 0 | 140 | 33 |
| Villanova | 23 | 4 | 5 | 0 | 118 | 18 |