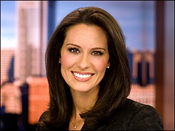 We're off to New York to cover the criminal hearing of
Alycia Lane
. We'll report the outcome as soon as there is one.
We expect, as
we reported Feb. 8
, and as the
Inqwaster
masqueraded as breaking news yesterday (Yes, 16 days later), that Lane's attorney
David Smith
and the Manhattan District Attorney's office will announce a deal in which Lane will receive up to six months probation, after which, if she stays out of trouble, her felony
assault case
will be dismissed.