The Florida Gulf Coast Eagles are in town today to take on Georgetown, and their student newspaper couldn't be more excited. Not only are they primed to be in the tournament, they're excited to even be in Philadelphia.
So excited, in fact, that they are making some brash statements.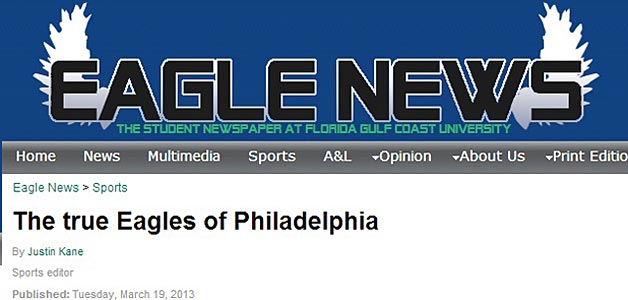 Before even stepping on the court, Florida Gulf has crowned themselves the top Eagles in town.
Of course, the way the Philadelphia Eagles' season ended, they're probably third behind Florida Gulf and any actual eagles that happen to fly in the air space within city limits.
But historically, this is a rather brazen claim to the throne. So we ask ourselves: Do they deserve it?
FGCU
Reached NCAA tournament for first time in school history.
PHILADELPHIA
Reached offseason, finally.
FGCU
Fighting for relevance in bracket of better, more exposed teams.
PHILADELPHIA
Fighting for relevance after being picked to win the Super Bowl, twice, and referring to selves as "dream team."
FGCU
Best player leads team, scores baskets, led conference in assists.
PHILADELPHIA
Best player mostly unused by former coach because of mystery reason.
FGCU
Current coach named "Andy," married to super model.
PHILADELPHIA
Former coach named "Andy," has mustache.
FGCU
Three players average double digit points per game.
PHILADELPHIA
Three players on average give the ball to the other team by accident almost two times per game.
FGCU
Went to Florida in November and defeated eventual top team in conference.
PHILADELPHIA
Went to Florida in December and managed to win for the first time in nine games, then did not win again.
Deserve the throne? The question is, why does Florida Gulf Coast even want it?