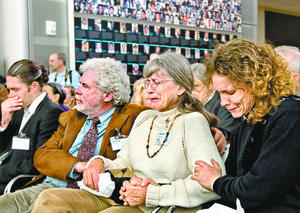 A couple times in the past year, Attytood has featured the story of Philadelphia photojournalist Kent Potter, shot down and killed with three others over Laos in 1971. Now, my friend Dan Rubin over at the Inquirer (and please catch up with his blog, which has migrated over here) brings the saga home:
A book-size stainless-steel canister is buried under the plaque that honors the men. Inside are teeth and bone shards, wrapped individually in plastic and kept together because forensic scientists could not determine what belonged to whom.

That they are interred at all is a tribute to the persistence of the photographers' friends and U.S. military personnel who in 1995 began to investigate sites in Southeast Asia where the remains of American citizens might be found.

"When you lose somebody close to you, it doesn't scab over and heal," Potter's sister told the Washington Post at the April 3 service. "A zipper is installed. And any time you come across the memory, it opens up, and all of your sadness falls out."
Please read the whole thing.