You don't need special glasses or a carved-up cereal box to see the phenomenon that is coming this weekend.
The start of college football season is at hand with four games on Saturday. Now, they're not as compelling as what we have next weekend (i.e. Alabama-Florida State), but when you live in a town where the baseball team is 30 games under .500 – you take meaningful football when you can get it.
There are changes in the coaching ranks and in the TV booth, but familiarity at the top of the preseason polls. We will miss Uncle Verne, but watch with anticipation whether Penn State can take the next step. Has anyone seen the Virginia wide receiver? Wanted to get some Powerball numbers from him.
Here are 50 things to know about the upcoming season.
*Defending champ Clemson has to replace 12 starters, including first-round picks quarterback Deshaun Watson and wide receiver Mike Williams. "Listen," said Florida State stud cornerback Derwin James, "Clemson won't have a down year for a long time with Dabo Swinney being there and with the recruiting they are doing." Clemson's top returnee is junior defensive lineman Christian Wilkins.
*Kelly Bryant, a junior who backed up Deshaun Watson the last two years, takes over at quarterback for Clemson. He's cousins with Steelers wide receiver Martavis Bryant, a Clemson alum. The Tigers two biggest games (Auburn, Sept. 9; Florida State, Nov. 11) are at home.
*Alabama is the Associated Press' preseason No. 1 for the second consecutive year and the fourth time in Nick Saban's 11 seasons. The Tide did not win the national title the previous three times (2010, 2013, 2016).
AP PRESEASON TOP 10
| | |
| --- | --- |
| 1. Alabama | 6. Penn St. |
| 2. Ohio St. | 7. Oklahoma |
| 3. Florida St. | 8. Washington |
| 4. USC | 9. Wisconsin |
| 5. Clemson | 10. Oklahoma St. |
*'Bama running back Bo Scarbrough, who had six TDs and was averaging 7.9 yards per carry in three postseason games, has recovered from the broken leg he sustained in the national title game. The Crimson Tide play No. 3 Florida State on Saturday, Sept. 2 in Atlanta (8 p.m., ABC).
*Vanderbilt junior quarterback Kyle Shurmur (La Salle High) broke Jay Cutler's school record for passing yards last season and is a big reason the Commodores are hoping for their first winning season since James Franklin's final year in 2013.
*We'll find out about Vandy early. The four-game stretch from Sept. 16-Oct. 7 includes games against Kansas State, Alabama, Florida and Georgia. Yikes. Three of those four (K-State, 'Bama, Georgia) are at home.
*Brad Nessler will take over for Verne Lundquist as CBS lead announcer for its SEC games. Nessler's good, but Saturday afternoons just won't be the same without Uncle Verne.
*ESPN also switched up a piece of its SEC booth after Brent Musberger retired to Vegas. (Hope it goes better for him there than it did for Nicolas Cage.) Tom Hart and Jordan Rodgers replace Musburger and Jesse Palmer for the network's Saturday night coverage.
*"What I've learned in my time at Baylor and Waco is we're not running from the past, but rather we're learning from it," new coach Matt Rhule said. "We're truly committed to getting the wrongs of the past corrected into a bright new future."
*Rhule, who was Temple's coach from 2013-16, will make his Baylor debut on Saturday, Sept. 2 against visiting Liberty. The Bears are picked to finish fourth in the Big 12 and host conference favorite Oklahoma on Sept. 23 in the league opener for both teams.
*Oklahoma State punter Zach Sinor has developed his own campaign for the Heisman Trophy. The 5-10 junior, who really is one of the best in the country at his position, is doing it all in good fun, of course. He even tried to take some snaps with the quarterbacks during training camp. "Well, I've gotten plenty of attention from my campaign," he told the Tulsa World, "but if I'm really going to win, I need to try to get on the field more."
Heisman Trophy Picks
(Full Odds Below)
| | |
| --- | --- |
| Ed Barkowitz | Baker Mayfield, QB, Oklahoma |
| Joe Juliano | Sam Darnold, QB, USC |
| Mike Kern | J.T. Barrett, QB, Ohio State |
*Oklahoma State figures to be Oklahoma's biggest threat in the Big 12. Cowboys coach Mike Gundy, who turned 50 on Aug. 12, is 2-8 against Oklahoma since turning 40.
*An underrated early game to watch is Appalachian State's Sept. 2 visit to Georgia. App State is favored to win the Sun Belt Conference and a win over Georgia would help a potential argument to be included in a more prestigious (and lucrative) bowl than the five minor ones the Sun Belt already is tied in with. The Georgia game will be almost 10 years to the day App State memorably won at Michigan on Sept. 1, 2007.
*The Bulldogs, ranked No. 15, are loaded at running back led by seniors Nick Chubb and Sony Michel, which probably means light playing time for freshman D'Andre Swift (St. Joe's Prep). Another RB fighting for carries at Georgia is sophomore Elijah Holyfield, Evander's son.
*Georgia's second game is at Notre Dame on Sept. 9 (NBC, 7:30 p.m.), so it better not look past Appalachian State.
*Curious to see what running back Kalen Ballage has in mind for an encore when Arizona State visits Texas Tech on Sept. 16 (7 p.m., FSN). Ballage scored eight touchdowns against the Red Raiders last season to tie an NCAA record. He had seven in the other 11 games he played. Check out this TD run from 2015:
*Defensive players will no longer be allowed to jump over offensive linemen in an attempt to block a field goal or PAT. Previously, the jump was allowed as long as the defensive player didn't touch an offensive player, which was kind of a silly loophole.
*Maryland sank $155 million into transforming legendary Cole Field House into a facility for the football team. The Terps, entering their fourth season in the Big Ten, are 8-17 in conference play, including a pair of losses last season to Michigan (59-3) and Ohio State (62-3) by a combined 121-6.
*"I definitely think about that, because it's embarrassing," said senior linebacker Jermaine Carter Jr., the team's leading tackler the last two seasons. "You don't want to be on the wrong side of that. This season, we want to be on the right side of that … We want it to be known that we're not going to stand for that."
*Maryland wide receiver D.J. Moore (Imhotep) has a catch in 21 straight games, the longest streak by a Terp since Torrey Smith had a 30-gamer from 2008-10.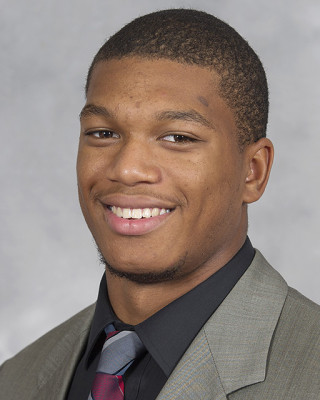 *Refs supposedly will more strictly enforce the coach's box rule, and why's that? "We (officials) wouldn't take a tenth of what some coaches do and say from a player," said Big Ten referees' coordinator Bill Carollo, "and this is the adult in the game setting the example."
*Michigan has to replace 17 starters, which is a shame because those guys missed a swell trip to Rome back in April when coach Jim Harbaugh presented the Pope with a Wolverines helmet and a pair of Air Jordan basketball sneakers. They're going to London, Paris and Normandy next spring.
*The Wolverines open the season on Saturday, Sept. 2 against Florida in Arlington, Texas. This will be the fourth meeting between the two, but the first in the regular season. Michigan won the previous three, all bowl games.
*The Gators entered the week still unsure of their starting quarterback. It'll be either Luke Del Rio, Feleipe Franks or Malik Zaire, a graduate transfer who played in eight games last season for Notre Dame.
*"I've coached in the SEC East when that was one of the strongest (divisions) in the country," said Ohio State coach Urban Meyer, referring to his days at the University of Florida where he won two national titles. "I think the Big Ten East is every bit as strong as I can remember the SEC East."
Picks for National Playoff
| | |
| --- | --- |
| Ed Barkowitz | Alabama, Florida State, Oklahoma, Penn State |
| Joe Juliano | Alabama, LSU, Ohio State, USC |
| Mike Kern | Alabama, Miami, Ohio State, USC |
*The Big Ten East's reigning champ is Penn State, which arguably has the best returning quarterback (Trace McSorley) and running back (Saquon Barkley) tandem in the country. The Lions most notable non-conference game is a rematch against Pittsburgh (Sept. 9 in Happy Valley), which leaves little margin for error in Big Ten play if they want to get into the College Football Playoff
*Penn State offensive coordinator Joe Moorhead is bound to be a hot head-coaching commodity if the Nits' offense is as potent as projected. Comparisons are being made to the 1994 squad, which averaged a ridiculous 47 points per game. Last year, the Lions averaged 37.6 ppg overall and 34.3 in their nine games against bowl teams.
*Penn State's 1994 team was ranked No. 9 in AP's preseason poll, This year, the Nits are No. 6.
[Where's Saquon? Beat writer Joe Juliano ranks the 10 best running backs in Penn State history]
*"Right now, we're in the weeds," said senior safety Todd Kelly Jr. after Tennessee was picked to finish third in the SEC East. "Nobody's really seeing us, almost like a snake in the grass. Our goal is to end up biting somebody at the end of the day and making them pay."
*Tennessee offensive lineman Jack Jones and defensive lineman Kyle Phillips spent two weeks in Vietnam this summer as part of a school initiative of using sport to bring people together. "They don't have the best facilities, but they still enjoyed what they did have and they were appreciative of that," said Phillips, a junior from Nashville. "That's something I can take and implement to our team. You don't have to have the best of the best to be successful. You just have to make the most of what you have."
Tennessee's student-athlete @VOLeaders took a service trip to Vietnam and made memories that will last a lifetime. #SummerU pic.twitter.com/Wt5ibBrBye

— NCAA (@NCAA) July 16, 2017
*Quarterback J.T. Barrett is the first three-time captain in Ohio State history. He's 26-4 as a starter and needs seven touchdowns (either passing, running or receiving) to break Drew Brees' Big Ten record of 106.
*Former Eagles' defensive coordinator Billy Davis is the linebackers coach at Ohio State. He was classmates at the University of Cincinnati with Urban Meyer and was the best man at Meyer's wedding.
*It's up to Matt Luke to lend stability to the mess that has become Ole Miss football. Luke was promoted from co-offensive coordinator to head coach after Hugh Freeze's sudden resignation in July. Luke was a center for the Rebels in the 1990s and was team captain in 1998. Mississippi is embroiled in an NCAA infractions investigation that makes the Sugar Bowl win just two years ago a distant memory.
*Quarterback De'Andre Johnson, who was one of the story lines of the Netflix series "Last Chance U." last season while at East Mississippi Community College, has landed at Florida Atlantic where he will play for Lane Kiffin. Yeah, that Lane Kiffin. It's Kiffin's fifth different job in the last 10 years.
*The Rose Bowl and the Sugar Bowl will serve as the semifinal games and be played on Monday, Jan. 1. The national championship is Jan. 8 in Atlanta.
Five best games in September
| | | |
| --- | --- | --- |
| Sept. 2 | 1-Alabama vs. 3-Florida St. | 8 p.m., ABC |
| Sept. 9 | 12-Auburn at 5-Clemson | 7 p.m., ESPN |
| Sept. 9 | 7-Oklahoma at 2-Ohio St. | 7:30 p.m., ABC |
| Sept. 9 | 14-Stanford at 4-USC | 8:30 p.m., FOX |
| Sept. 16 | 5-Clemson at 16-Louisville | 3:30, TV TBA |
*Texas fired Charlie Strong after three straight losing seasons, a first for the school since the 1930s, and hired Tom Herman from Houston. Herman and Houston beat Rhule and Temple in the 2015 AAC Championship Game, their only meeting as head coaches. The two will see each other as Big 12 rivals for the first time when Texas visits Baylor on Oct. 28.
*The Big 12 has brought back its title game after a six-year absence following the defections of Nebraska to the Big Ten and Colorado to the Pac 12. Not having a title game in 2014 – when TCU and Baylor were co-champs — cost the Big 12 a spot in the College Football Playoffs.
*When Oklahoma plays at Kansas State on Oct. 21, Oklahoma coach Lincoln Riley will be 34 years old and his K-State counterpart, Bill Snyder, will be 78.
*Riley was bumped up from offensive coordinator to Oklahoma's head coach in June after Bob Stoops' sudden resignation. Star left tackle Orlando Brown says Riley's relatively young age is a benefit. "He gets us as players and he's a ton of help off the field," said Brown, a junior who could be a first-round NFL pick in 2018. "I've had a ton of one-on-one talks with him. It's great."
*Reigning Heisman Trophy winner Lamar Jackson is not favored to repeat. USC quarterback Sam Darnold (4-1) and Oklahoma quarterback Baker Mayfield (6-1) are listed ahead of Jackson (7-1), Louisville's quarterback. Remember, these odds are based on anticipated trends of the wagering public, not on who Vegas thinks will or won't win the award.
*Mayfield called his February arrest for public intoxication and related charges "the biggest mistake of my life by putting myself in this situation." The Sooners QB paid nearly $1,000 in fines and his community service included delivering for Meals on Wheels and working with kids at a police camp.
Heisman Trophy Odds/By Vegas Vic
| | | |
| --- | --- | --- |
| Sam Darnold, QB | USC | 4-1 |
| Baker Mayfield, QB | Oklahoma | 6-1 |
| Lamar Jackson, QB | Louisville | 7-1 |
| J.T. Barrett, QB | Ohio St. | 8=1 |
| Saquon Barkley, RB | Penn St. | 10-1 |
| Derrius Guice, RB | LSU | 12-1 |
| Jake Browning, QB | Washington | 15-1 |
| Trace McSorley, QB | Penn St. | 20-1 |
| Deondre Francois, QB | Florida St. | 20-1 |
| Jalen Hurts, QB | Alabama | 20-1 |
| Mason Rudolph, QB | Oklahoma St. | 20-1 |
| Jarrett Stidham, QB | Auburn | 22-1 |
| Josh Rosen, QB | UCLA | 22-1 |
| Nick Chubb, RB | Georgia | 25-1 |
*Another interesting quarterback is Josh Allen, a star at Wyoming for coach Craig Bohl. Allen (6-5, 233) is almost identical in size to Carson Wentz, whom Bohl recruited to play at North Dakota State, and some scouts think he could be the No. 1 overall pick next year. The Cowboys play at Iowa on Sept. 2 and host Oregon on Sept. 16.
*Of the 12 teams in the American Athletic Conference, five will have new head coaches: Temple (Geoff Collins), Houston (Major Applewhite), South Florida (Charlie Strong), Cincinnati (Luke Fickell) and Connecticut (Randy Edsall). Give Edsall an asterisk, however. He was UConn's coach from 2000-10.
*Updated rankings of quarterbacks playing in Los Angeles this season:
Philip Rivers, Chargers
Sam Darnold, USC
Josh Rosen, UCLA
Jared Goff, Rams
*Rosen, who's been called everything from a spoiled brat to a lightning rod, missed the final six games last season after having shoulder surgery. UCLA went 1-5. His showdown with Darnold, assuming both stay healthy, is Nov. 18.
*Central Florida kicker Donald De La Haye lost his eligibility after the NCAA concluded he was benefiting from a being a football player by making YouTube videos and earning money from the advertising. "… He could have continued playing football for the university and earn money from non-athletic YouTube videos, based on a waiver the NCAA granted July 14," the NCAA wrote in its ruling.
*Big 12 schools split $348 million in revenue from the 2016-17 academic year. That's $34.8 million per school – and that's without having a football championship game.
*USA Today reported in May that Big Ten commissioner Jim Delany has done such a terrific job guiding the conference to unprecedented levels of prosperity that he earned a $20 million bonus. "His compensation is market-competitive, based on an independent third-party analysis, and reflects the value and impact of his leadership," said University of Minnesota president Eric Kaler. That's some strong double-talk, folks.
*Virginia wide receiver Chuck Davis won $100,000 in the Virginia lottery in June and, somewhat stunningly, was allowed to keep his money AND maintain his eligibility. "It's good," Davis told the Washington Post. "It's approved by the NCAA. It's basically luck, so they can't have rules on it." The odds of winning the game he played are 1 in 278,256 and the winning numbers (1, 3, 4, 7, 9) came from his grandmother.
*Somebody needs to get Kansas State linebacker Trent Tanking a "Trust the Process" T-shirt – and not just because of his last name. This kid went from a walk-on buried deep on the roster to senior starter and team leader. "Had you told me (five years ago) I would be here right now I would have said, 'You are out of your frigging mind,' " he said. Hey, he even talks like one of us!
National Champion Picks
| | |
| --- | --- |
| Ed Barkowitz | Florida St. |
| Joe Juliano | USC |
| Mike Kern | USC |