Eyal David Sherman, 36, of Elkins Park, an artist who, although profoundly handicapped, painted exuberant renderings of nature, especially flowers, died Sunday, Sept. 24, at Abington Hospital-Jefferson Health. He died of cardiac arrest, his family said.
The son of Leah Sherman and Rabbi Charles S. Sherman, he was born in Syracuse, N.Y., in May 1981.
When he was 4, Mr. Sherman was diagnosed with a brain-stem tumor. After exploratory surgery in Syracuse, his parents were told that there was no way to remove the tumor and that their son would die in several months.
"I don't accept. No," said Rabbi Sherman, spiritual leader of Congregation Melrose B'nai Israel Emanu-El in Elkins Park. "I don't accept 'impossible.'"
The Shermans searched for a doctor with experience in removing brain-stem tumors — the procedure was in its infancy — and found pediatric neurosurgeon Fred J. Epstein at New York University Medical Center, who was willing to try.
Dr. Epstein did remove most of the tumor, but within days, Mr. Sherman suffered a massive stroke and lapsed into a coma. When the boy awoke four months later, he had no ability to move, breathe on his own, or speak. He required around-the-clock care; doctors recommended a nursing home.
But he could think clearly and move his lips enough to mouth words. Seizing on those abilities, the Shermans decided to bring their son home and help him live a full life.
"The story of Eyal Sherman is an inspiring story of a family determined to honor a handicapped child, and enable him to develop to his entire potential," said Rabbi Seymour Rosenbloom, a friend. "Most of all, it is a story of love and togetherness that gave meaning to the life of a family member who was unable to live independently in the most minimal way."
With his mother's help, Mr. Sherman graduated with honors in 1999 from Nottingham High School in Syracuse and graduated magna cum laude from Syracuse University in 2009 with a bachelor's degree in fine arts. He did his lessons by typing with his chin on a special device attached to his wheelchair.
"Leah accompanied Eyal to college for 10 years," Rabbi Sherman said. "She was by his side every single day."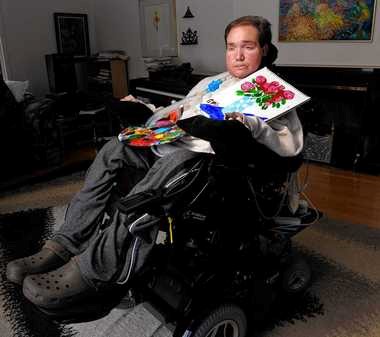 After college, Mr. Sherman became a painter in acrylics and watercolors, wielding a brush with a mouth stick, to form vivid, exotic images. His art has been exhibited in Philadelphia, Palm Beach, Syracuse, Beverly Hills, Atlanta, and Minneapolis.
He loved to paint flowers. "You have them forever," he told his family.
Mr. Sherman was a full synagogue participant. At age 13, he studied for his bar mitzvah. "I just always knew I'd be up there on the bema [podium] like any other kid," he told his family. When it came time to read from the Torah, he silently formed the words of the sacred scroll.
His father described Mr. Sherman as determined, inspirational, funny, witty, and smart.
"He was mischievous as a child," Rabbi Sherman said. "He never complained about his lot in life. He was the center of the family, lived in the moment of time, never felt sorry for himself.
"He had a refreshing naïveté; he was cuddly and hopeful. He was a good person with many admirers around the globe. He inspired thousands of people walking through the valley of the shadow of death, who looked at him as an inspiration."
Mr. Sherman, who had undergone many visits to Children's Hospital of Philadelphia over the years, was thrilled when his parents, both Philadelphia natives, moved back to this area in July 2015.
He was an avid sports fan, cheering for Syracuse University basketball, the Eagles, and the Phillies. He took advantage of cultural opportunities in the city.
He was the center of his nieces' and nephews' lives. Their faces lit up when they saw him. "They would sit on his lap, give him kisses, and play music with him," Rabbi Sherman said. "They learned to never be intimidated by others with severe disabilities."
In addition to his parents, Mr. Sherman is survived by sisters Rabbi Nogah Marshall, Orah Barnett, and Nitza; a brother, Rabbi Erez Sherman; and nieces and nephews.
A funeral service will be held at 11 a.m. Tuesday, Sept. 26, at Goldsteins' Rosenberg's Raphael-Sacks, 6410 N. Broad St. Interment will follow at Montefiore Cemetery in Jenkintown.
Donations may be made to the Eyal Sherman Foundation, c/o Estate Bookkeeping, Cozen O'Connor, 1650 Market St., Suite 2800, Philadelphia 19103.
To read more about the family, see Rabbi Sherman's book,  The Broken and the Whole:  http://thebrokenandthewhole.com/main/. Also, Dateline NBC produced a video story about Mr. Sherman and his family: https://www.nbcnews.com/video/eyals-story-109056067831.