Prohibition: PA liquor board shuts down attorney's booze column
Do public employees have different rights to free speech?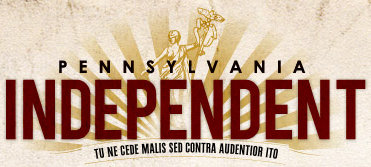 HARRISBURG — For two years, attorney Alan Kennedy-Shaffer has had an insider's view of Pennsylvania liquor laws. He's assistant counsel for the Pennsylvania Liquor Control Board, the state agency that's dominated headlines as the liquor privatization debate swells and sputters.
But the PLCB doesn't want Kennedy-Shaffer writing about these laws in public, arguing it's a conflict of interest.
Kennedy-Shaffer, no stranger to ruffling feathers, said that's censorship.
"Public employees do not lose their right to free speech simply because their day job happens to be at the Pennsylvania Liquor Control Board, or any other agency," he said.
Now he's engaged in a debate with the state on that First Amendment right.
Proposed column on liquor laws
In late May, Kennedy-Shaffer approached the Philadelphia-based The Legal Intelligencer, the nation's oldest law journal, about writing a column on Pennsylvania liquor laws. He wouldn't get paid, but looked forward to seeing his name in the publication.
Given the widespread interest in state wine and spirit stores since Gov. Corbett made his privatization push earlier this year, Kennedy-Shaffer said he thought the column would be informative by explaining the history of how the PLCB developed since Prohibition, and answering reader questions about state laws.
But before he started writing, he wanted to get permission from his employers. Kennedy-Shaffer filed a disclosure form – and found the PLCB was significantly less excited about one of their attorneys authoring columns about its laws.
They gave him two options — forgo the column, or resign from the PLCB.
"Any column authored by you regarding liquor law could be utilized to the Board's disadvantage," said the denial letter from PLCB human resources officials. "The Board does not give it consent to engage in this action."
The letter said writing about liquor laws would conflict with Kennedy-Shaffer's duties as an as attorney, and violate terms of the Liquor Code and the PLCB Code of Conduct.
By Kennedy-Shaffer's own admission on the disclosure form, his position requires him to participate in contract, licensing and financial decisions. The PLCB told him they would not give him consent to disclose confidential information, and that his views could be interpreted as that of the agency.
"Given your current position, it would be difficult for readers of your article/column to differentiate and distinguish between your job duties and any opinions expressed in your column," reads the letter.
Now Kennedy-Shaffer has appealed the decision to the Office of Administration, saying the PLCB is violating his right to free speech.
"Our First Amendment rights, especially freedom of speech, cannot be abridged by the Pennsylvania Liquor Control Board or any other government agency simply because the PLCB may disagree with our personal views or is fearful that we may say something they don't like," Kennedy-Shaffer wrote to Secretary of Administration Kelly Powell-Logan. "In this case, the PLCB has no right to censor my personal views on matters of public concern."
This isn't the first time that Kennedy-Shaffer's extracurricular activities have raised concerns about conflicts of interest.
Kennedy-Shaffer went through a similar situation last year when he disclosed his creation of Harrisburg Hope, a community organization meant to engage city residents in Harrisburg's debt recovery and local politics. Then, too, PLCB denied his request. But he appealed the case to the Office of Administration and won.
In this case, Kennedy-Shaffer said he thought the PLCB was heavy-handed in its denial.
"We need more government transparency, not less," he said.
As for concerns about leaking proprietary information, Kennedy-Shaffer said no reputable attorney would violate their attorney-client privilege, or put their client at a disadvantage. He had also offered to allow the PLCB to review the column before submission, and include a disclaimer that his views didn't represent those of the agency.
"My vision for the column was to encourage the readers to ask questions about liquor law or liquor issues, and then I would provide my views and any information I could," he said.
The PLCB could not offer additional comment on the situation because it is a personnel matter, said press secretary Stacy Kriedeman.
Court rulings on the matter
The rights of public employees to share their views on issues involving their official duties has been tried and tested in the courts.
In May 2006, the U.S. Supreme Court ruled in Garcetti v. Ceballos by a 5-4 majority that the U.S. Constitution doesn't protect public employees from employer discipline regarding statements made pursuant to their official duties.
Interpreting this involves whether or not the public employee was speaking as "a citizen on a matter of public concern." If not, the employee does not have First Amendment protections.
"The question becomes whether the government employer had an adequate justification for treating the employee differently from any other member of the general public," the court found. "A government entity has broader discretion to restrict speech when it acts in its role as employer, but the restrictions it imposes must be directed at speech that has some potential to affect the entity's operations."
Rick Esenberg, founder of the Wisconsin Institute for Law and Liberty, is a Marquette University Law School professor and lawyer with experience trying public employee free speech cases.
Pennsylvania law may provide Kennedy-Shaffer an avenue to argue free speech clauses, Esenberg said, if it has a broader interpretation than federal cases.
At a federal level, per Garcetti and other case law, if statements relate to a public employee's job abilities, they do not have the same First Amendment rights, he said.
But again, it comes back to whether the speech is occurring under the responsibilities of begin a public employee.
"When you're exercising your right to free speech as a public employee, you don't have the same rights as someone else," he said.
Contact Melissa Daniels at melissa@paindependent.com