AVALON, N.J. — Difficult repair work, much of it underwater amid swirling currents, to shore up the aging but vital Townsends Inlet Bridge at the Jersey Shore, is nearing completion and officials are cautiously promising that the span — closed to motorists since early April when inspectors found structural defects — will reopen by July Fourth.
"It'll be a banner day," said Marie Kelly, 67, last week. She lives on the north end of Avalon and has had to use a detour adding more than 15 miles each way to trips she makes several times a week to babysit her grandchildren in Sea Isle City.
While the bridge has remained open to pedestrians and bicyclists, motor vehicles have had to use arteries like the Garden State Parkway and Route 9 to get from one town to the other — a detour that has added miles and time to what had otherwise been a quick trip over the bridge.
"I can't wait for it to reopen. It's added so much time and the cost of gas for us. And it's really inconvenient on weekends when we have to get on the parkway and there is a lot of traffic," Kelly said.
But with the summer tourist season about to heat up, officials say the repair work finally will be completed on the span, which opened in 1939 as part of a coast-hugging route called Ocean Drive (Route 619) that includes a series of bridges linking Cape May County's barrier islands.
Officials and residents have long debated whether the bridge needs to be altogether replaced — cost estimates are in the hundreds of millions of dollars — but for now, county officials are spending more than $1 million to make repairs.
"The closure of the bridge is an inconvenience to visitors and residents, especially as the summer tourism season gets busier week by week," said Scott Wahl, business administrator for Avalon Borough. "As businesses and restaurants open and special events occur with more frequency, there is much more interest in using this, and other bridges, that link the Shore communities together."
Sea Isle City Mayor Leonard Desiderio said his "fingers are crossed" about the bridge reopening.
Last June, nearly 50,000 vehicles used the Townsends Inlet Bridge, according to the Cape May County Bridge Commission, which operates a total of five toll bridges along Ocean Drive from Ocean City to Cape May.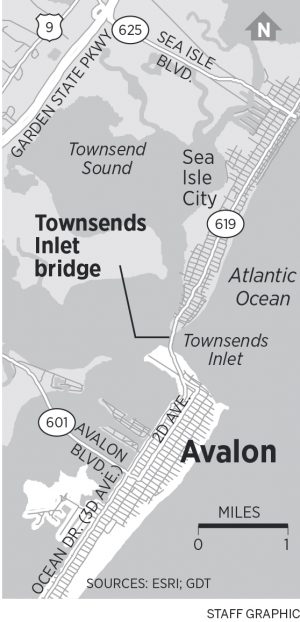 The Townsends Inlet Bridge, named for the waterway over which it passes, connects Avalon with Sea Isle City. It was severely damaged during an infamous 1962 nor'easter. It was the repair job from that storm that created the issues that led to the closure two months ago, said Cape May County Engineer Dale Foster.
Foster said officials had expected the repairs to take weeks rather than months and had originally anticipated that the bridge would reopen by Memorial Day weekend.
But conditions in the inlet itself — where a dynamic confluence of the Atlantic meeting the Intracoastal Waterway often creates swift tidal currents and choppy conditions — has presented a particular challenge for crews repairing defects in two long poles known as piles about 20 feet below the water surface on the bay side of the bridge in a section known as Pier 6.
South State Inc. of Bridgeton, Cumberland County, the contractor doing the work, is operating in 12-hour shifts on weekdays and 9-hour shifts on Saturdays — when the spring weather has permitted — to install a cluster of three new piles. Each pile is 24 inches in diameter and 160 feet long — the length of a 16-story building. More than 60 feet of that will be driven into the floor of the inlet by pile-driving equipment. Because of the compromised strength of the bridge, the work is being performed by equipment placed on a floating barge in the inlet.
The new pile cluster is being bolted by a dive team to an existing concrete pier cap, Foster said.
Before crews could begin that process, they had to remove tons of rocks called "riprap" that were placed around the pier as part of repairs done after the 1962 storm. The rocks ranged from two to four feet wide. That work took more than two weeks — longer than anticipated — to complete because of the tides and weather conditions, according to Foster.
Once that was finished, South State installed a "falsework" template to act as a guide and platform for completing the underwater task.
Foster said once crews began the actual installation of the piles, they encountered problems with a dense layer of "obstructive" materials — more rocks and concrete — as far as 12 feet below the inlet bottom. The rocks and concrete were placed there during repairs after the huge storm altered the configuration and depth of Townsends Inlet.
"That meant we had to remove that pile and replace it with a longer one and reinstall it at a different angle, in a different configuration, to avoid the obstruction," Foster said. "Of course this meant that all this work has taken longer to complete."