Two Camden County Police detectives ambushed at a traffic light were on a special detail in a high-crime Camden neighborhood just six blocks from the city's downtown when two male suspects opened fire on their unmarked police vehicle, authorities said Wednesday.
Both officers sustained wounds in a fierce gun battle with their attackers Tuesday night in the city's Bergen Square section.  Officials said 10 to 25 rounds were fired at the officers. The two — a male and a female detective whose names were being withheld — remained hospitalized with injuries not considered life-threatening.
Shocked by last night's shooting of two @CamdenCountyPD detectives on #NationalNightOut, and grateful none of their injuries are life-threatening.

We remain committed to being part of Camden's turnaround and to building a safer community by getting guns off our streets.

— Governor Phil Murphy (@GovMurphy) August 8, 2018
As an intense manhunt continues for the two shooters, new details emerged about the attack, which drew national attention and responses from law enforcement officials from around the country offering to help capture the suspects. There were also unanswered questions about a motive for the unprovoked attack.
"I'm thankful to God that I didn't have to call for lowering the flags," Mayor Frank Moran said in an interview Wednesday.  "It could have been a different story in the city of Camden."
Chief Scott Thomson said the officers were in plainclothes, stopped at a red light, working in a non-enforcement capacity.
The shooters pulled up behind the detectives at Broadway and Mount Vernon Street around 8:30 p.m., got out of their car, and began firing at the officers through the back windshield of their vehicle, said Dan Keashen, a police spokesperson.
One of the officers jumped out of the vehicle and returned fire, he said.
It was unknown whether the suspects possibly recognized the detectives, authorities said. The detectives were working on a high-crime reduction detail in the area, which has been plagued recently by drug and gang activity, according to a law enforcement source familiar with the case but not authorized to speak.
Both detectives have been on the force for several years and were working undercover, said Rick Kunkel, president of the Camden County Fraternal Order of Police Lodge 218. He declined comment on a possible motive.
"It appears they were completely ambushed while sitting at a stoplight," Kunkel said. "They were doing their jobs and then ambushed. … I think them being aware of their surroundings and reacting quickly saved them."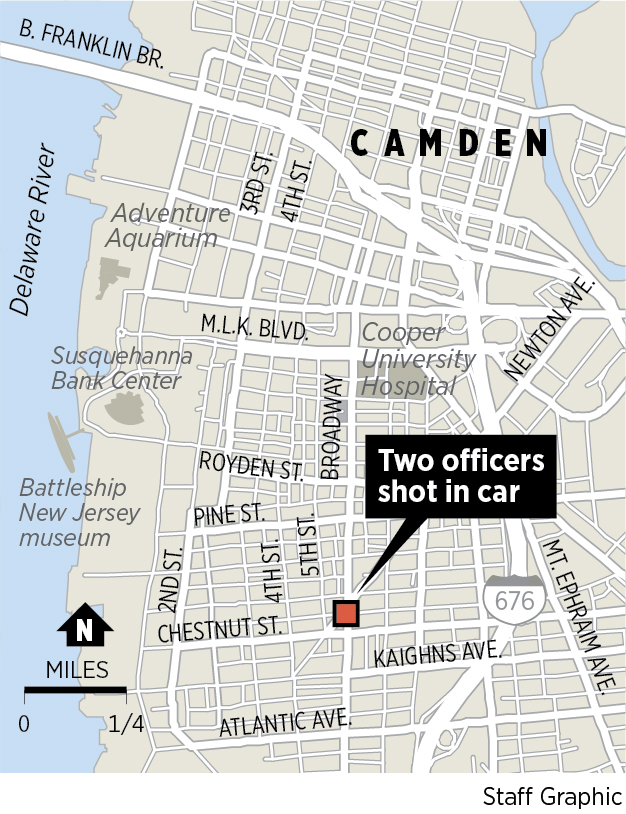 The gunfire sent residents, accustomed to the sounds of gunfire, scrambling for cover. Mothers with young children in tow hustled from the area.
"It's something you get used to around here, but last night it was just different. It was something else," said Jane Carter, who said she was about two blocks away when she heard gunfire. "Everyone was in a panic."
The blocks along Broadway near where the shooting took place is well-traveled by gaunt prostitutes and drug users. Nearby are alleys and trash-filled lots between homes where users shoot up. Many businesses in the area are boarded up, but in front of Duran Grocery at Broadway and Chestnut is a popular spot for many locals to pass time and drop inside for snacks.
At the shooting scene, a large Camden County Police Department mobile unit and three marked police cars sat idling Wednesday. Reaction from neighbors ranged from shrugs to shock that police were ambushed.
Additional details about the investigation and the search for the suspects were sketchy. Under state guidelines, Camden County Prosecutor Mary Eva Colalillo is heading the probe because the shooting involves municipal officers. A spokesperson declined further comment.
"The investigation is ongoing, and further information is not being released at this time," the spokesperson, Alexandra McVeigh, said in an email.
Earlier, Keashen, the police spokesperson, declined to comment on whether authorities believed the two male suspects were still in the area. Witnesses reported seeing a bullet-riddled van fleeing the area.
"We are casting a wide net," Keashen said.
Law enforcement agencies from around the country have offered assistance, including the FBI and ATF, to help investigate what Thomson and Moran described as an ambush on the detectives.
Before the shooting happened, Camden city officials hosted four National Night Out events throughout the city Tuesday. National Night Out was designed to bring together police and the communities they cover.
The incident marks the third time that Camden County police officers have been wounded since the department took over patrols in Camden in 2013 and the city police force was disbanded. The officers in the previous shootings survived their injuries.
In the latest incident, Kunkel said one of the detectives was shot once and will be released soon; the other sustained four gunshot wounds and is consulting an orthopedic specialist. Both were in stable condition Wednesday at Cooper University Hospital, Keashen said.  Both have been placed on administrative leave pending the prosecutor's review of the use of force.
Keashen said a Camden officer on patrol in the area heard the gunshots and rushed to the scene. The officer "scooped up" the wounded detectives and took them to Cooper in his patrol car, he said. No bystanders were struck and it was unknown if the suspects were wounded.
Aracelis Torres, 56, said she was in a restaurant when the shooting happened, and when she tried to walk home she had to take a detour because of the police tape and emergency vehicles and personnel at the scene. Despite the area being a hotbed for crime, including her son being shot in the chest and critically wounded four years ago in front of her house, the shooting of two officers surprised her.
"You have to have respect for a police officer, you know what I'm saying?  This is ridiculous drama. Just crazy," she said.
A few blocks away, Carlo Granger lamented not just the shooting of the officers but the crumbling state of his block. Houses on both ends of the four-house block are abandoned and missing windows. Behind his house, the ground is littered with drug needles and garbage left by the many drug users who have turned the area into a shooting gallery.
"It don't make no sense. They tell me they're going to send somebody out here, but they never do," Granger said of the city, sitting on his well-maintained porch on Newton Avenue.
We are so thankful the officers are expected to survive and we pray for their quick and safe recovery! Please join us in sending thoughts and prayers to the officers, their families, and the Camden County Police Department. https://t.co/eKFM1N8Wwg

— Florida Police Chiefs Association (@FloridaChiefs) August 8, 2018
Authorities were checking hospitals in the region for anyone seeking treatment for gunshot wounds from the detective's return fire.
The Camden County Police Department replaced the Camden city police force in 2013 in a move officials said was intended to slash costs and hire officers to help curb crime in a city once ranked among the most dangerous and violent in the country. Since the takeover, crime has dropped drastically. In 2017, the city had 22 homicides, its lowest number in about three decades. This year there have been 11 slayings.
"We're going to continue to make Camden a safer place," the mayor vowed. "We're not going to let this set us back."
Staff writers Will Feuer and Avalon R. Zoppo contributed to this article.
People who have information on the shooters can contact Major Crimes Detective Matt McKeown  with the Camden County Prosecutor's Office at 609-820-7192. Tips can also be emailed to ccpotips@ccprosecutor.org