LAST WEEKEND was a cesspool on social media.
I was using Twitter and Facebook to keep up with local protests against police shootings that I feared would go bad, and some did - though not as bad as they could have.
At one, participants were shouting extreme things like, "No justice till there are dead f---g police." That's repulsive, especially in the wake of the assassination of five Dallas police officers after a peaceful Black Lives Matter protest.
Then I started to get screenshots of ignorant posts on Facebook from people who are apparently Philadelphia police officers.
One cop thought it appropriate to post a meme of a white officer with the words, "This is why we shoot you guys."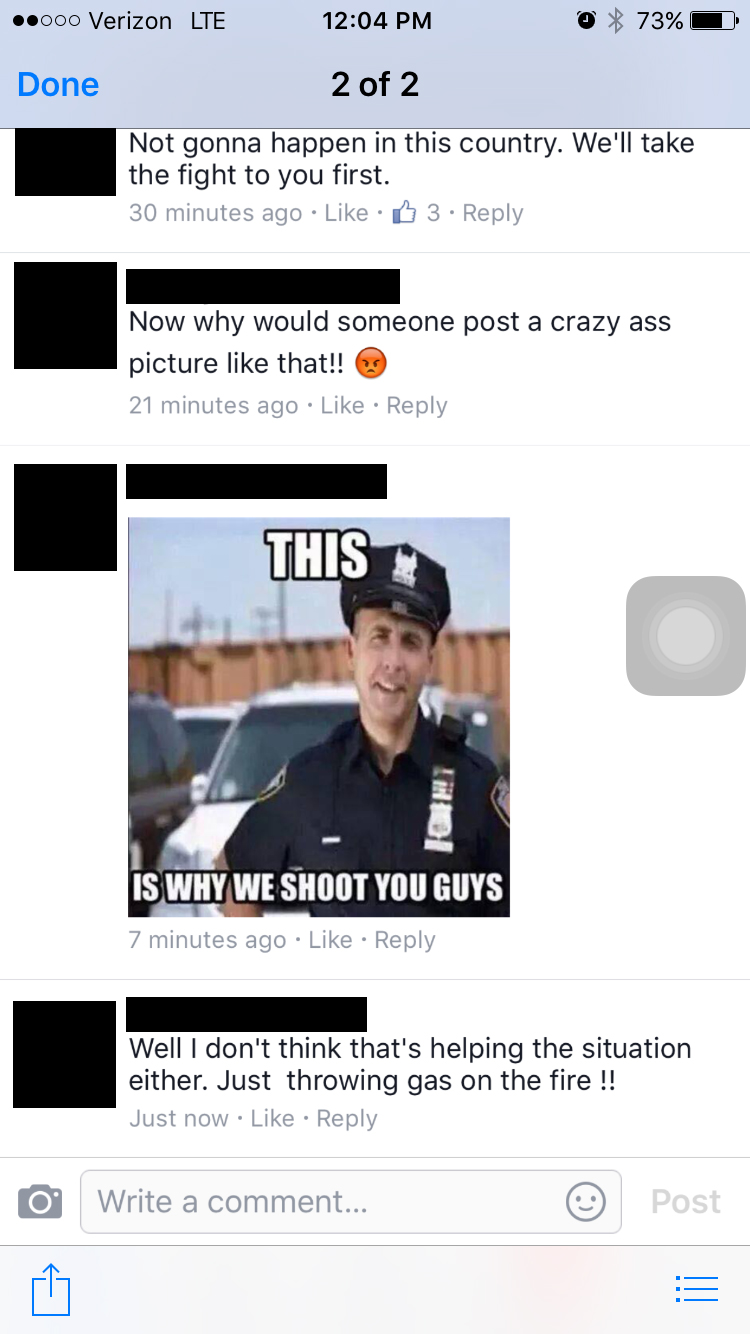 Another retired officer offered this gem in response to a clear-eyed piece written for Philadelphia Magazine by lawyer and former prosecutor Kevin Harden Jr. titled "The Hard Conversations We Need to Have to Stop Police Killings."
"How about this," the officer wrote in the comments section under the article posted on Philadelphia Magazine's Facebook page, "stop being f--g criminals and you'll stop getting you sorry ass kilked." (sic - and certainly sick)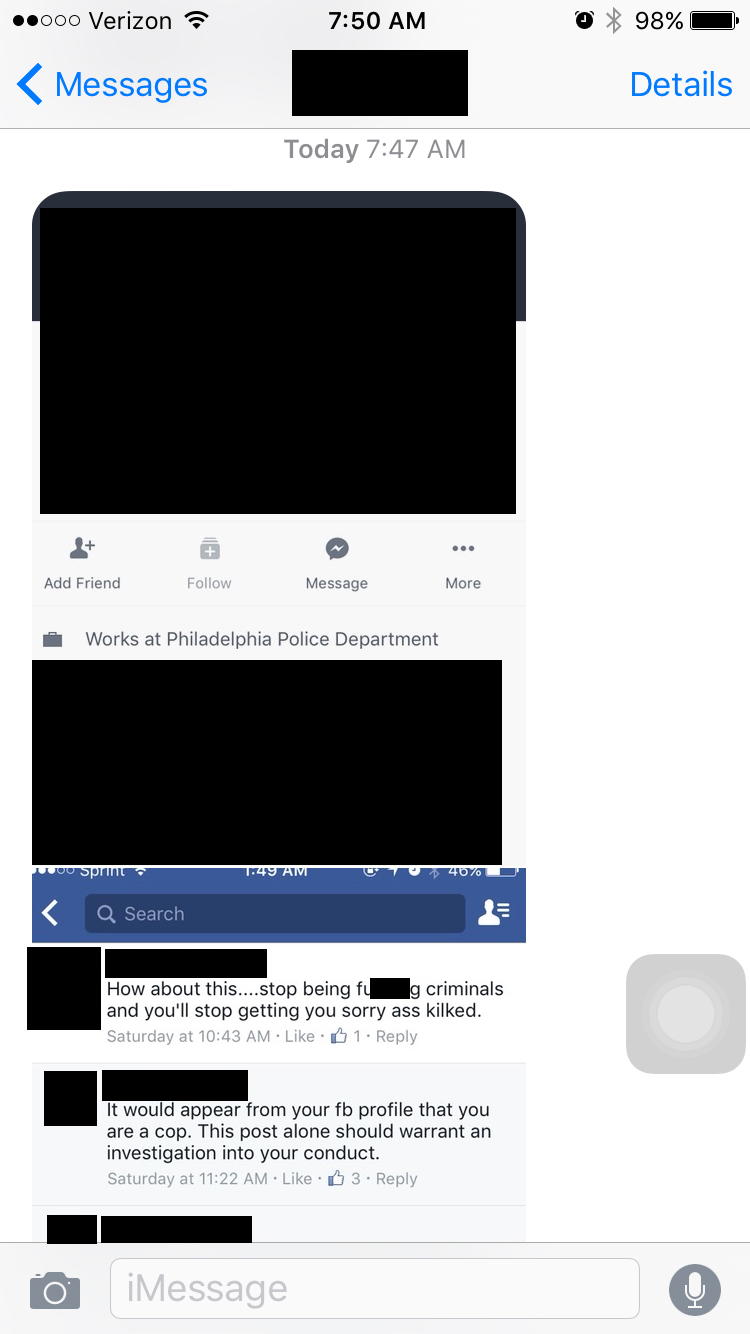 A Kansas cop was fired Sunday after threatening a Dallas woman and her 5-year-old daughter on Facebook. But I'm still waiting to hear what, if anything, will come from Philly cops posting incendiary nonsense on social media.
There's nothing the department can do about the retired Philly officer, even if he chooses to post such vile comments next to a picture of himself in uniform. But police spokesman Lt. John Stanford said that the comments posted by the other officer have been forwarded to Internal Affairs.
"This is a very serious issue and to be quite candid, after everything this country has experienced the past 3 days, to post something like that or even have those thoughts is abhorrent," Stanford said.
Good to hear. You know what was also good about this? Some of the people who were giving me a heads-up about the nasty posts that cops were sharing were cops themselves. Which, in small part, is exactly what many of us have been screaming for cops to do - call out the bad apples giving their whole organization a bad name.
But here's the catch.
If we expect good cops to hold bad cops accountable - and I do - then those who believe that black lives matter - and I absolutely do - should also call out those damaging the credibility of the movement and its message. And it starts with protesters who think calling for the deaths of police officers will somehow move this fragile conversation forward. To do anything less is hypocritical.
Accountability has to be a two-way street, and it begins by understanding that internal criticism is key and criticizing our respective "camps" isn't betrayal, it's strengthening our positions by protecting our message.
Harden, author of the Philadelphia Magazine piece, said he found some of the responses to his essay indicative of where a lot of the conversation about police shootings is right now.
"I feel like people are talking past each other. Black Lives Matter versus All Lives Matter versus Blue Lives Matter," he said. "It's creating an environment that is more competitive than an exchange of ideas."
The issue of police-involved homicides, as Harden wrote in his piece, is personal. His best friend was killed by a police officer in 2013. The day his friend was killed, he was working as an assistant district attorney in Philadelphia, surrounded by police officers wearing the same uniform of the man who killed his friend who offered their condolences. It was on Harden to get his best friend's son, his godson, to understand that not all police officers are bad people.
"I didn't need much inspiration," he wrote. "I was surrounded by great cops every day."
Harden said his Facebook page is split pretty evenly between those who side with cops and those who side with the Black Lives Matter movement.
On any given post about the issue of police-involved shootings, Harden said, the comments inevitably include a comment from someone saying:
"Look at these terrorists!"
But, he said, chuckling, depending on who is commenting, the "terrorists" are either the cops or the protesters.
"I have a lot of respect for a lot of really hard-working police officers," he said. "It's the few who want to fan the flames or who want to approach this without thinking about it who give all of them a bad name.
The same, he said, could be said for protesters, and the few bad apples who sully the necessary conversation about fatal police shootings for their own personal agendas.
"There's ignorance on both sides," he said.
No doubt.
And it's on us to call out that ignorance, whether it's standing behind a protest sign or a badge.
215-854-5943 @NotesFromHel
Helen.Ubinas