In a safety-orange reflective vest and cap, scooping concrete into a foot-wide pothole surrounded by traffic cones, Jim Bachor looked unremarkable – like he might have been dispatched by the city's Streets Department for a quick repair.
Then, he carefully tamped down the concrete and inlaid it with a mosaic: a handmade rendering of an Arctic Splash carton.
It turns out Bachor, 52, of Chicago, is no city employee. He's an artist, and his playful pothole mosaics, which exist at the intersection of roadwork and artwork, have been gaining international attention. This weekend, the gallery-magazine collaboration HAHA x Paradigm brought him to Philadelphia for his first East Coast installation.
The idea, he said, is to replace an axle-busting (or ankle-shattering) hazard with "a little unexpected joy in someone's day."
Ginger Rudolph, of HAHA magazine, and Jason Chen and Sara McCorriston of Paradigm Gallery, spent days scouting potential potholes and calling for suggestions on social media for sites around the city.
"Our intention is to bring art to people in daily life," said Chen, 30.
They were stymied in some cases by the city's Streets Department, which has filled 25,915 potholes so far this year. Many likely candidates disappeared in the run-up to the Democratic National Convention.
"That good old DNC got the city all right again," Rudolph said, a bit ruefully.
These are logistical challenges Bachor didn't have to mull a few years ago, when he was devoted to making mosaics for fine-art settings. But a particularly bad pothole season in 2013 inspired him to undertake some guerrilla roadwork in front of his house, and set him on a new path. A student of ancient history and art, he adapted techniques he learned from an early mosaic nexus, Ravenna, Italy, to install street art.
Since then, he's made pothole-mosaics of vintage ice-cream products (he called the series "Treats in the Streets"); he's branded potholes as "Gucci" or "Louis Vuitton;" and he's made tributes to trash, like the Arctic Splash carton he was inlaying at Fourth and Fulton streets in Queen Village. Over the weekend, he is also dressing up a Philly pothole with Burberry plaid, and installing a likeness of a Nestle Crunch Bar and a subtle gray-and-black mosaic that says, "Make Your Mark."
"The reason I got into mosaics is they're so durable. You can do something that will last a thousand years," he said. "My philosophy is: Make your mark in this world, but don't boast about it."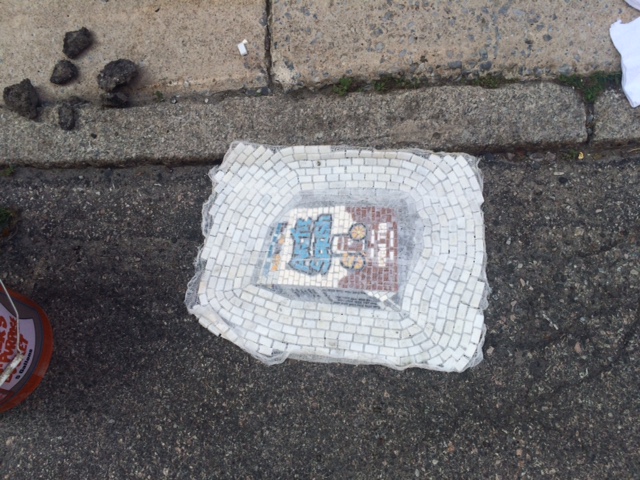 The Arctic Splash mosaic, mid-installation. (Photo: SAMANTHA MELAMED / Staff Photographer)
Bachor said he used to wait until nighttime to install his works. "I was paranoid," he said. "The more I've done it, I realized people just don't care."
Indeed, minutes later, the artist James Dupree walked by and asked what was happening. Chen told him, "We have an artist here. He's going to fill in that pothole." Dupree shrugged and kept walking.
On the Internet, it's a different story. Bachor keeps an interactive map of his works online, and posts them to Instagram, where he has thousands of followers. When he installs a new work, he also hides a gift bag of pothole-art-related merchandise nearby for fans to nab. In return, his fans often keep an eye on his work, and let him know if there's damage.
"Burberry #2" is now ready for viewing! Located in front of the only (?) stop sign along Los Liones near the Getty Villa in Los Angeles! I forgot to bring along a goodie bag. However I will mail one to the first person that takes a picture of this piece (with their shoes in the shot) and emails it to me at jim@bachor.com ~ UPDATE: the goodie bag has been claimed! ~ thanks for playing along LA! Until next time... #bachor #jimbachor #burberry #getty #gettyvilla #losangeles #2016potholeartinstallations #2015potholeartinstallations

A photo posted by bachor (@jimbachor) on Jul 11, 2016 at 11:06am PDT
Around Chicago, Bachor said people often recognize him in his bright orange vest. But there are cases of mistaken identity.
"One time on the South Side of Chicago, I'd just found a pothole, and I was starting work, and an old lady came out of her house and said, 'Are you with the city?' She was like, 'I just got off the phone with the city, asking them to fix this pothole.'"
Then, he recalled, she pointed to another pothole nearby: "Are you going to do that one, too?"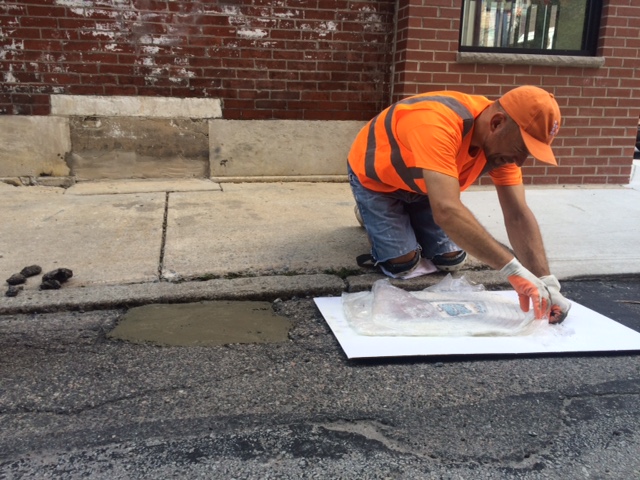 Jim Bachor installing a mosaic in a newly filled pothole. (Photo: SAMANTHA MELAMED / Staff Photographer)