When Aron Wahrman meets World War II vets in his job as the section chief of plastic surgery at the Cpl. Michael J. Crescenz VA Medical Center in Philadelphia, he likes to tell them, "I'm here thanks to you."
As the son of a Holocaust survivor who was liberated when U.S. troops crashed through the gates of the Flossenburg concentration camp, Wahrman says he feels "a tremendous sense of connection" with these veterans, who saved the lives of both his father, Henry, and his uncle Wolf.
Working three days a week at the VA Center is one way that Wahrman acknowledges the tremendous debt he believes that he owes to veterans. Another is to tend a growing collection of military histories, photographs, and documents concerning his father's life and the story of the 90th Infantry Division that liberated his relatives.
Wahrman interacts with World War II vets on mostly age-related issues such as skin cancer and wounds.
"But I view vets of any age, service branch, or theater as part of an extended family and heritage that I am privileged to serve," he says.
On a recent day, the items spread across the dining room table in Wahrman's house in Bala Cynwyd included an image of Henry Wahrman as a young boy with his brothers, mother, and father — a photograph saved by a Polish aunt who escaped Europe before the war. Nearby rests Henry Wahrman's 25-page, single-spaced German testimony on the horrors he experienced in the camps, and his U.S. naturalization certificate, dated 1954.
Many of the photos and documents were given to Wahrman and his siblings by their mother after she relocated from Florida to New York following the Sept. 11, 2001, terror attacks.
Wanting to learn more about his father's history, Wahrman began to collect books and memorabilia of the period, including a copy of a personal memorial history of the 90th Infantry Division (known as the Tough Ombres), a division of Gen. George Patton's Third Army.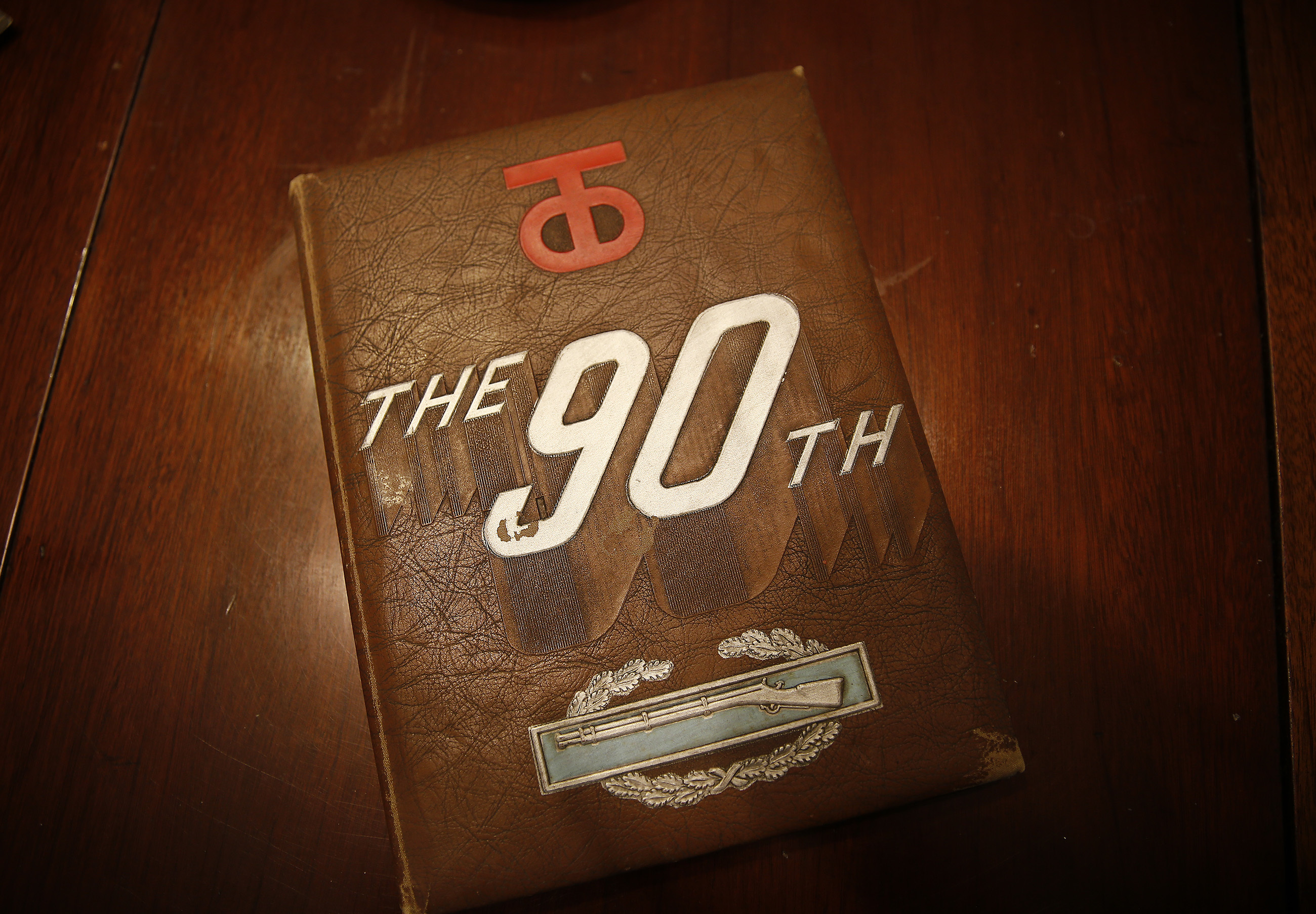 On Memorial and Armistice Days, Wahrman and his wife, Peggy, fill with flowers an artillery shell that had been hammered into a handmade vase. It's an artifact from the 90th infantry, which first served in World War I.
Wahrman's father, his uncle Wolf, and the Polish aunt were the only members of his father's family to survive the Holocaust.
Henry and Wolf's two younger brothers were taken by the Nazis from their town of Nowy Sacz (or Sanz) early in the war and gassed at the Belzec extermination camp in Poland. His grandmother, says Wahrman, "most likely died of cancer shortly before the war, but it was too painful and never spoken of by my dad or uncle." Wahrman's grandfather Aron and two aunts perished at Auschwitz.
Before Henry, Wolf, and their father, Aron, were sent off in transports in 1942, the older man begged Henry not to become separated from Wolf.
"Miraculously, the two were able to remain together during the war, and both immigrated to the United States," Wahrman said. But the brothers never saw their father again.
The Wahrman family roots are "in the depths of Hasidic Poland," said Wahrman, whose father had studied in a Yeshiva with the Bobover rabbi before the war started.
Henry and Wolf were sent to a number of concentration camps, including Tarnow, Plaszow, and Rzeszow, before Flossenburg, where they were put to work as slave labor on war plane assembly lines, quarries, and mines.
When the war was over, with the help of the allies, Henry resurrected a textile mill in Tirschenreuth, in the northeastern part of Bavaria. Wahrman later discovered that through his father's generosity, money from the mill helped other displaced people get married and emigrate, and even finance a medical school education.
In 1949, when Henry was 26 and Wolf 22, they immigrated to the United States. With his beautiful voice and religious training, Henry became a cantor, eventually working in synagogues in Brooklyn, Long Island, Ohio and Toronto.
"We had a very open, loving relationship," Wahrman says of his father, who died in 1993. "But I still think about all the things he didn't see with his own grandchildren. And all these questions I still have."
Decades after the war, the privations he endured still resonated with Henry.
"He liked to go food shopping. He found going into a supermarket and seeing a pile of fresh grapefruit was so reassuring and validating. It sounds like a cliché but he took pleasure in small things."
Aron Wahrman actually started his first day of Penn's surgery residency at the very same Philadelphia VA. For 15 years after finishing his residency and fellowship he was in private practice at Chestnut Hill, Hahnemann University and Roxborough hospitals. In 2007, he was recruited to Temple University as a professor of surgery. Last year, the head of the division of plastic surgery at Penn, Joseph Serletti, told him that he could "really use your help at the VA."
"I didn't even have to think twice," said Wahrman, who has maintained his clinical activities at Chestnut Hill Hospital and elsewhere under Penn Medicine. Wahrman was recently elected president of the Robert H. Ivy Pennsylvania state society of plastic surgeons.
As a family, the Wahrmans continue the tradition of talking about his father's Holocaust experiences at Passover, when the story of liberation and certain familiar prayers once sparked Henry's memories. These days, Wahrman also shares his historical collection at the seder, which includes a picture of his Uncle Wolf in an American uniform, during his service in Korea.
"My father was too old to be drafted," Wahrman said. "But he went with my uncle to the draft board and said he hoped he wouldn't lose another member of his family. But the brothers didn't ask for a deferment. They didn't ask for anything."
Wolf served in the psychological warfare division and rose to corporal. He died in 1997.
"I don't think you need to be a son of a Holocaust survivor to realize how wonderful it is to live in this country," Wahrman said. "Even the intellectual act of reading a book, that I love to do, is safeguarded by people who have sworn their lives to protect that right.
"When I take care of the vets, I see all of them as part of the same family and the same continuity. I'm very cognizant of where I come from, who got me here, how grateful I am, and how grateful my father and uncle was to our armed forces," he said.
"It's the best job I've ever had."