Organ donors who died of drug overdoses in the extended Philadelphia region have risen more than fourfold in just five years, a small comfort for families who lost loved ones but were able to help someone else live.
Because addiction – especially to heroin and prescription painkillers – is rising fastest among young adults, fatalities tend to mean more and healthier organs available for transplant. Younger people also are more likely to be organ donors. Families, who often have seen their daughters or sons struggle for years, relapsing again and again, are more likely to authorize donations than are families of people who died of other causes, records indicate.
"To have his last act not be a drug overdose but to help save somebody's life, that helps write the end of his story" with something good, said Richard Hasz, a vice president who oversees day to day operations for the Gift of Life Donor Program, which coordinates transplants in eastern Pennsylvania, South Jersey, and Delaware.
Charles Grugan, 33, who died of a heroin overdose five years ago last Sunday at his parents' house in Wayne, had made that decision on his own when he first got his driver's license while attending Archbishop Carroll High School.
"I remember him coming home with his picture," said his sister Carolyn Grugan Noll. "He was very proud of that, proud to have gotten his driver's license and proud to be an organ donor. . . . I think most people, when they sign up, think it is the right thing to do but they don't think they will be called upon to act on that."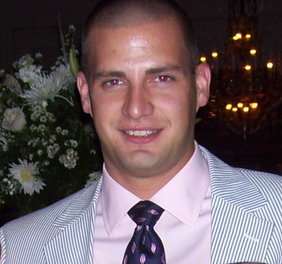 When doctors told family members that Grugan was brain-dead, they asked about organ donation. It was a matter of "how can we take this dark situation and turn it into something spectacular," his sister said.
His heart, liver, and two kidneys were recovered and transplanted into three recipients. The family has exchanged letters with all of them through the Gift of Life program. A Facebook page in Charles Grugan's name keeps his legacy alive, and encourages donations.
The trend of increasing donations due to drug overdose fatalities is being seen across the country, to varying degrees. Nationally, organ donors who died of drug abuse increased about 250 percent from 2010 through 2015.
Still, there's no sign that the supply of organs for transplant is keeping up with the demand from aging Americans and those with chronic diseases.
"The number of people on the waiting list is increasing faster than the number of donors, even with the increases related to overdoses," said David Klassen, chief medical officer at the United Network for Organ Sharing, which tracks and manages organ donations in the United States.
More than 5,600 people are on transplant waiting lists just at Gift of Life, the largest regional program in the country. Organs were recovered from 483 deceased donors last year, including 81 who died of drug-related causes.
The trend is accelerating, however, with 78 of the region's 387 organ donors during the first nine months of 2016 the result of drug use.
Those fatalities, categorized as "drug intoxication," could involve any kind of drug, legal or not, including alcohol. But the overdose trends in recent years have been almost entirely driven by opioids – although the increase in organ donations has far exceeded even the huge rises in drug death rates.
No one knows why donation rates vary so much around the country. Drug overdose fatality rates differ substantially as well but the trends don't necessarily match. Hasz, of the Gift of Life program, speculated that "selection bias" might be involved in some regions. Here, he said, organs from people who were drug users had always been considered for donation, while they might not have been in some other regions.
The average age of a donor who died of drug intoxication is 32, he said, compared with an overall average in the mid-40s, and many of their organs may be more viable. Opioids like heroin and prescription pain relievers are deadly because too high a dose stops the breathing reflex, not because they damage organs.
Drug users do have higher rates of hepatitis C, which is caught during the intensive screening process. But those organs are given to the substantial number of people on waiting lists who are already infected, Hasz said. And a pilot program at the University of Pennsylvania is transplanting the organs into uninfected people, who are then treated for the infection afterward.
In New England, organ donors who died of drug use have increased nearly ninefold in five years – twice as fast as in the Philadelphia region and nearly four times as fast as the national average.
The New England numbers include a man named Chris LePage.
On his last day alive, in June 2015, his father, Colin, rode waves of hope and despair. It started when he found Chris, 30, at home after an apparent overdose. Paramedics rushed him by helicopter to one of Boston's flagship medical centers.
Doctors revived Chris' heart, but struggled to stabilize his temperature and blood pressure. At some point, a doctor or nurse mentioned to LePage that his son had agreed to be an organ donor.
"There was no urgency or, 'Hey, you need to do this.' I could see genuine concern and sadness," LePage said, his voice quavering.
The next morning, after another round of tests showed no signs of brain activity, LePage said goodbye to the son who had been revived but was not fully alive.
"I sat in a chair with him and held his hand," LePage said. "It wasn't clinical. It didn't feel like someone's gaining something here. I knew that someone was, and that's comforting, that someone else has been able to have a little piece of my son and some of their pain is not what it used to be."
Chris' liver is now working in the body of a 62-year-old pastor.
This story includes reporting by Martha Beginger of WBUR in Boston. Her work is part of a partnership that includes WBUR, NPR and Kaiser Health News.
---
This story and accompanying graphic have been revised to clarify that the numbers used to represent the trend reflect deceased donors. Multiple organs may be recovered for transplant from each donor.