Building on a recent burst of restaurant activity - La Calaca Feliz, Lemon Hill, BlueCat, Hickory Lane in the last year alone - Fairmount has two new options.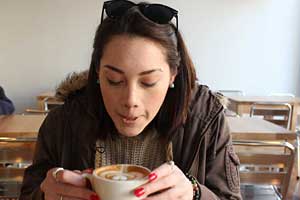 Just a week old is OCF Coffee House at 21st Street and Fairmount Avenue, across from Eastern State Penitentiary.
This is a captivating redo of what was Mugshots (which moved a block a half away last year).
Industrial-chic with a shiny hardwood floor, this third OCF cafe is more ambitious than its siblings owned by Ori Feibush of OCF Realty: There's a real kitchen turning out breakfast and lunch, and they sell mimosa and Bloody Mary mixes for BYOers. Anodyne Coffee out of Milwaukee is the house brew. Hours are in flux, but it's open from 6:30 a.m. to 9 p.m. weekdays (kitchen closing at 4 p.m.), 7:30 a.m. to 9 p.m. weekends (kitchen open till 8). That's Rachael Compton trying a latte; see more photos here. Food menu is here.