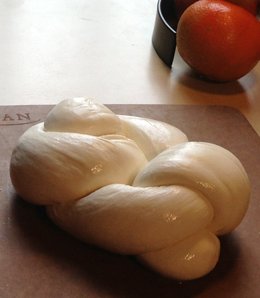 Kevin Sacherman says his desire to make cheese came from his love of eating it.
However, his first attempt at making two-hour, homemade mozzarella resulted in "a pile of cheese more akin to a ball of warm cauliflower than an artisanal dairy product," he writes in a post for Table Matters. "The "cheese" crumbled between my fingers like wet sand, and when I cautiously sampled a pinch of my work all that came to mind was damp, salty cardboard."
Sure he could solve differential equations, analyze blood flow models, and pass a course titled "Chronobioengineering," but when it came to cheesemaking, this engineer was stumped.
The recipes seemed simple, requiring only five ingredients: milk, citric acid, rennet, and salt. The trouble arose in finding rennet, citric acid and high quality milk.
"Many supermarket dairy products are pasteurized at high temperatures; ultra-high temperature pasteurization, for example, brings the milk above 275 degrees Fahrenheit for just a few seconds," he writes. "The high temperature kills any harmful organic life in the milk, but denatures many of the proteins essential to cheesemaking."
After a few more failed attempts he decided to turn to the professionals at Valley Shepherd Creamery, a recent addition to the Reading Terminal Market, where you can watch cheesemakers expertly pull fresh mozzarella made in-house.
The answer to Sacherman's problem was simple; he needed to use prepared curds.
"Cheesemaker Jamie Png creates fresh mozzarella on a daily basis from them," he writes. "This curd, which is essentially unprocessed cheese, allows Jamie to prepare consistent batches of mozzarella in under an hour."
After taking careful notes of Png's cheesemaking skills and purchasing a couple pounds of prepared curds, Sacherman was able make mozzarella worth presenting.
"If you're looking for a project with potentially delicious results, experiment with home cheesemaking, but if you're searching for the perfect cheese to compliment a meal or a fine wine, strike up a conversation with your cheesemonger and put your trust in the professionals," he says.
To get all the details of Sacherman's process, read his full post here.
(Photos used with permission from: tablematters.com)