The first time Budweiser Made in America came to Philadelphia, in 2012, festival curator Jay Z coheadlined his own show. The rapper shared top billing with a heavyweight of similar stature from the rock world: Pearl Jam.
The next year, the fest followed the same blueprint, with one huge star from R&B-hip-hop in Beyoncé and one dude-fronted hard-and-heavy band in Nine Inch Nails. In 2014, Kanye West was paired with Kings of Leon.
While Beyoncé's 2015 headlining partner, the Weeknd, was a pop-R&B singer, there were rock acts near the top of the bill in Modest Mouse and Death Cab for Cutie. And last year, the music genre yin and yang was in full effect, with Rihanna joined by Coldplay, one of the most popular (soft) rock bands in the world.
This year, Jay Z is back on the MIA lineup. But the festival hasn't booked any rock counterweights. The only rock near the top of the bill is Roc Nation, the music business mahoff's label and management company, which counts among its roster North Carolina rapper J. Cole, who will be Jay Z's coheadliner at the Labor Day weekend fest to be held Sept. 2-3 on the Benjamin Franklin Parkway.
I bring this up not to disrespect J. Cole, an impressive, evolving artist, or the Chainsmokers, the pop-electronic duo who are the big dance-music act on the bill and massively popular at the moment. (Though, on second thought, I do want to disrespect the Chainsmokers, but that's a discussion for another time.)
The point, rather, is that Made in America is one of the prestige music events of the summer, yet it has not booked a single rock headliner that's a major draw.
That's not a crime, and MIA has always been more hip-hop- and EDM-focused than, say, the Firefly Festival that will take place June 15-18 in Dover, Del., which at least nods to rock with top-line names Muse, Twenty-One Pilots, and Bob Dylan, along with Chance the Rapper and the Weeknd.
But MIA is a multistage affair that, like Coachella and Bonnaroo, follows the digital-age model of representing multiple genres, catering to digital-age music lovers who are assumed to like all kinds of music.
In 2017, however, rock and roll is not considered one of those kinds. Or at least it's not a kind regularly producing young acts that can be counted on to pull in a mass audience. It's not the festival's fault so much as it's that there aren't many headliner-size acts to choose from.
There are rockers who draw huge crowds, of course. But almost all of them have one thing in common: They're old.
According to Pollstar, which monitors the concert industry, the race for the biggest touring act of 2016 was a virtual tie between Beyoncé and Bruce Springsteen. This summer, two big rock shows are coming to Lincoln Financial Field: Metallica, with members now all in their 50s, on Friday, and U2 on June 18.
That's nothing new. For years, rock's biggest touring acts have been baby boomers, like Tom Petty & the Heartbreakers, who are to play July 1 and 29 at the Wells Fargo Center. And the Rolling Stones have remained box office champs even as their average age left that of Supreme Court justices in the dust.
So if most of rock's biggest-selling acts are eligible for Social Security, does that mean the music itself is headed for the retirement home? If rock and roll isn't actually dead yet, is it in need of an oxygen tank?
A look at the pop charts might make you think so. Rock hasn't dominated sales since the Nirvana grunge explosion more than a quarter-century ago. And the current Billboard album chart is representative of the norm, with California '90s holdovers Incubus -- at No. 4 -- the only rock act in the Top 20. Sheryl Crow and John Mayer are outside looking in at No. 22 and No. 23, respectively.
But does mediocre performance in the marketplace mean vital rock and roll is not being made?
Of course not. The signs of life are apparent, they're just not as out in the open as they once were. Partly that's because the music may not come in the same immediately identifiable packaging it once did.
"Don't Hurt Yourself," Beyoncé's collaboration with Jack White on Lemonade, lacked conventional rock-band signifiers, but it most assuredly rocked (and deservedly earned a rock Grammy nomination). Sturgill Simpson, this year's out-of-left-field album of the year nominee, sings in a down-home Waylon Jennings growl but has rock-and-roll fury pumping through his veins.

And probably the most fun I had at the South by Southwest festival in March was seeing PWR BTTM, the queer garage-rock duo who take great pleasure in upending standard rock norms. (They are set to play May 19 at the Non-Comm convention at World Cafe Live and again June 17 at Union Transfer.)
Mostly, in a hip-hop and pop era, where the current chart rulers are rappers Kendrick Lamar and Drake and easy-listening Brit Ed Sheeran, rock and roll operates on the fringes of the mainstream.
For sure, that's a troubling state for rock fans. Sometimes, it seems like the music is being cordoned off out of the cultural spotlight, as has happened in the past with folk music, blues, and jazz, catering to true believers.
But that doesn't mean rock and roll isn't creatively vibrant. Passionately delivered evidence to the contrary is certainly all over the Philadelphia music scene, which is producing worthwhile bands at a rate that can be difficult to keep up with.
There may be none more quintessentially rock and roll than Low Cut Connie, the rude and raunchy outfit led by piano-pounding showman Adam Weiner, who wear hearts on their sleeves on the lead single to their next album, Dirty Pictures (Part 1). It's called "Revolution Rock n' Roll." (The band will play Friday during Free at Noon at World Cafe Live.)
In Philly in particular, a great many of the leading rock acts are fronted by women. Take a look around this month, for instance, and check out Cayetana, the female punk trio featuring singer Augusta Koch, who on Friday released their sterling second album, New Kind of Normal.
That same day, Harmony Woods, led by impressively accomplished teenager Sofia Verbilla, released the untruth-in-titling Nothing Special on Honest Face Records. And Saturday affords the next opportunity to see Sheer Mag, at the First Unitarian Church, the powerfully riffing Thin Lizzy-inspired quintet led by Christina Halladay, whose performances leave no doubt that rock and roll remains an unstoppable force.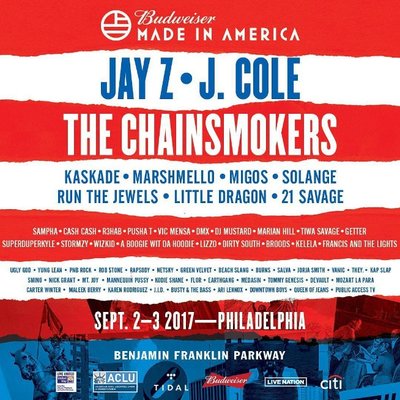 And evidence of rock-and-roll relevance will be apparent at Made in America, too. It's just on the undercard. You'll have to seek the bands out on the side stages. There's galvanic, politically minded Providence, R.I., punks Downtown Boys, but most are Philadelphians, with the local 215 scene well represented by Beach Slang, Mannequin Pussy, and Queen of Jeans. The names of bands able to deliver a rock-and-roll transfusion are listed there on the poster. You just have to read the fine print to find them.