Ten years ago this week, a music-venue-that-could opened above a former boxer's bar at the corner of Girard and Frankford Avenues on the border of the then-not-so-hip neighborhood of Fishtown.
The opening-night bill on Sept. 13, 2006, at Johnny Brenda's didn't seem that big a deal at the time.
It featured four local acts: a neighborhood band fronted by songwriter Adam Granduciel called the War on Drugs; a solo set by Meg Baird, then lead singer of the psychedelic-folk band Espers; blues player Jack Rose; and Bardo Pond, the West Philly psych-rock band fronted by Isobel Sollenberger.
In retrospect, however, that's a pretty impressive lineup. The War on Drugs have since been rapturously acclaimed. Baird, now working out of San Francisco, records for Drag City and is about to head out on a European tour. Rose established himself as a fingerpicking wizard before his death in 2009 and is revered as a modern John Fahey. Bardo Pond have carried on throughout a two-decade career and will be back on stage Tuesday to mark the club's 10th anniversary.
Looking back, the inception of the club owned by Paul Kimport and William Reed - also owners of Northern Liberties' pioneering Standard Tap and an as-yet-unnamed venture set for Kensington this fall - serves as a reminder of how Johnny Brenda's has had its act together from the very beginning.
Over the years, that has meant memorable nights with touring acts like Sufjan Stevens, Janelle Monáe, Jim James, Dirty Projectors, Bon Iver, Fleet Foxes, and Noura Mint Seymali, not to mention prominent locals such as Low Cut Connie, Kurt Vile, and the Sun Ra Arkestra, which will return on Halloween night.
The club was featured prominently and intelligently as a showcase venue in Ryan Coogler's 2015 Rocky movie, Creed. And, yes, when Justin Bieber was looking for someplace cool in Philly to hang and shoot pool, he went to Johnny Brenda's - and got carded.
But the 10-year anniversary also shows how much the music scene has changed in Philadelphia, and how much Johnny Brenda's has had to do with that.
The bar, restaurant, and music venue is correctly credited as the neighborhood hub that sparked Fishtown's revival. But its high standards also have led to an upgrade at spots across town, making Philadelphia a much nicer place to go hear music than it had been in the smoke-filled, stale-beer-smelling, 1 a.m.-start-time days.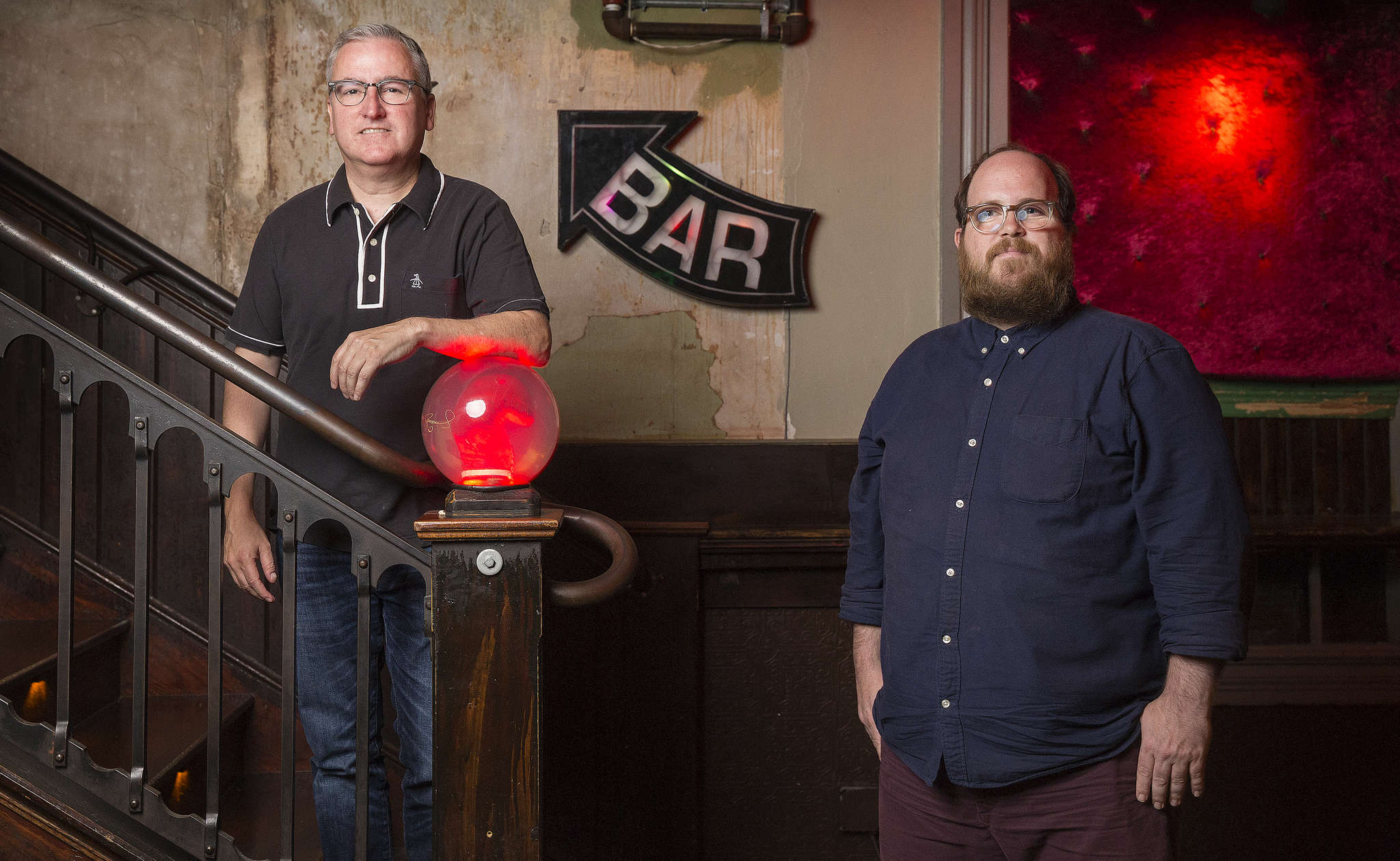 That has as much to do with the venue's hospitality - both for audiences and bands - as it does with the quality of the bands. Chris Ward, 37, longtime drummer for the Philly band Pattern Is Movement, is the club's talent buyer. He works closely with manager Greg Mungan, 53, a former bassist with the 1980s post-punk reggae-flavored trio Scram. Both of them, and the other dudes quoted in this story, give much respect to Brandy Hartley, the "boss lady" who was the club's original booker and who now works for Ticketfly, the San Francisco company that handles ticketing for Johnny Brenda's.
Mungan has been at the club since the opening bell, but Ward admired it from a distance before coming aboard.
An experienced sound man, he says: "I had pretty much mixed in every single room in the city. Doc Watson's, the Pontiac, the North Star Bar. All of the viable small rooms. And there was not always that great of a fan experience."
"When my band played at Johnny Brenda's, I was like, 'Whoa, this is what a small-capacity venue can be!' I got to get in there."
Kimport (the food guy) and Reed (the beer guy) operated Johnny Brenda's as a locally sourced bar/restaurant in 2003. Three years later, the partners - both now 49 - opened the music space on the second and third floors.
"When you think about the things that make you really love a bar, live music is one," says Reed. He fondly remembers seeing Ween and the Goats at the Khyber in the 1990s and gives props to the Trocadero for inspiring Johnny Brenda's cozier but similar balcony. "And one of the things we didn't want to do was open up another second-rate venue in Philly."
"They hired people who loved music," says Mungan, who came up with the club's logical yet revolutionary idea of posting set times on the Johnny Brenda's web page. "Chris and I are both musicians who had toured a lot. So what I wanted Johnny Brenda's to be is a venue where, as an artist, I would want to play on tour."
Many artists do. At the Xponential Festival in Camden this summer, Sue Slezak of Boston folkies David Wax Museum told the crowd that Johnny Brenda's, where the band is headlining New Year's Eve, is its favorite venue in the U.S. "I was on tour in Serbia, and the guy at the club said, 'I follow Johnny Brenda's and also Sean Agnew at R5 Productions on Instagram because I want to bring all the bands you book over to Belgrade.' I was like, 'You've got to be kidding me!' "
Mungan calls Johnny Brenda's "a boutique." He says the empathy for artists and audiences is a carryover from the people who grew up in the DIY all-ages scene, where shows may have been held in someone's dank basement or a warehouse, but where there was a sense of safety and respect for artists and fans.
Johnny Brenda's carries on that ethos in an over-21 room, where there are a bar and restaurant ecosystem to make bands feel at home. "It's their house for the night" says Ward. "We're not just packing bodies in there." Indeed, one of the most attractive things about the club is that it rarely feels cramped. The city code limits the upstairs capacity to 300. Tickets sales are capped at 250.
Of course, Johnny Brenda's isn't the first or only comfortable room in town. To name two others, Old City's Tin Angel has been carrying the singer-songwriter torch for two decades. And West Philly's spiffy World Cafe Live, with its emphasis on sight lines and acoustics, opened two years before Johnny Brenda's.
The difference is that those rooms cater to older audiences, targeting baby boomers. Johnny Brenda's, on the other hand, is an indie-rock room (though the lineup is more variable, with hip-hop and jazz and world music, than it used to be). The radical idea was that even (over-21) kids would rather go to a nice place than crawl inside a dumpster to see their favorite band. And they would be willing to go to Fishtown to do it.
Has the success of Johnny Brenda's created a ripple effect, with upgraded venues opening, like Union Transfer, Boot & Saddle, and the Fillmore?
Yes, says Agnew, the longtime all-ages promoter who booked national acts into Johnny Brenda's in its early years and who now has part-owner interest in both Union Transfer and Boot & Saddle.
"I hold the Khyber in high regard," he said of the Old City venue, which was on its last legs as Johnny Brenda's opened. He was answering via email while on vacation in Iran. "It made sense as a venue in the mid-'90s. But as other cities began to open new and, for lack of a better term, nicer venues, Philadelphia was just sort of stuck in a rut.
"So when JB's came along, it just completely blew the doors off of every other bar/venue in town. I think it took about 10 weeks before every band and agent/manager was asking how they could play there. Philly finally got the classy venue it deserved."
215-854-5628