Ahh 4/20. A lovely, all-encompassing, festive day that pays homage to the marijuana in all of its natural glory. It has, in many regards, become an international holiday celebrating the plant.
The celebration of April 20 — and for some people anytime it's 4:20 — goes back decades. It has its roots in California, where five high schoolers nicknamed "The Waldos" used to meet and smoke weed after football practice.
Philly420 columnist Chris Goldstein wrote about how 4/20 caught fire. The spark came after an editor for High Times Magazine picked up a flyer at a Grateful Dead show.
"I'm walking out there in the parking lot and someone hands me the flyer … a half-page flyer. It had this message that people should like gather, get together, on 4/20," Steve Bloom told Goldstein.
"I showed it to all my friends and everyone got a kick out of it. Then I brought it back to the High Times office in New York. We passed it around the office and everyone got a kick out of it there too … so, I was the news editor at the time and we got some art and we printed the content of the flyer," Bloom said. "Really my little write up there in High Times was the first time the '420' probably got any national publicity outside a small network of stoners in the California area that kind of used it locally there."
Thus, the spirit of toking up and mellowing out with friends and good music would spread across the country.
Ahead of the celebrations, which happen Friday, we found a couple events around Philly that will be celebrating the spirit of the plant.
(And a friendly reminder: marijuana is legal in Pennsylvania, New Jersey, and Delaware only if you are a qualified medical patient.)
Location: 3rd and South Streets, Philadelphia
Starts: Friday, 4:20 p.m.
Details: Cannabis aficionados gather at the intersection of 3rd and South for a moment of reflection at 4:20. South Philly NORML chapter leader Lauren Reilly said, "With recent legislative progress city and statewide, there are many reasons to celebrate. But 4/20 is still an important call to action for the cannabis community's push for greater acceptance and legalization." Look for the famed canna-mascot, "Hempy."
More info at the South Philly NORML Facebook page.
Location:  1431-39 N. 52nd St. Philadelphia 19131.
Starts: Friday, 4:20 p.m.
Details: For $10, you can participate in One Art's Annual 4/20 celebration, which will include a dozen bands, food, nonalcoholic drinks (the event is BYOB), a yoga session, and more. One Art is a nonprofit center in West Philly focused on building creative spaces in the community, according to its website. More details can be found on the page's Facebook event.
Smoketacular Cannabis Variety Show and Concert
Location: Connie's RicRac, 1132 S. 9th St., Philadelphia, 19147
Details: Open mic variety show starts at 6:30 p.m. Performers — musicians, comedians, and smokin' word artists — get four minutes and 20 seconds on stage. That's followed by the Smoketacular concert at 7:30 p.m. headlined by Bong Hits 4 Jesus. Also: House Plant and Red Meat Conspiracy. More details here.
Location: 1050 N Hancock St., Philadelphia 19123
Starts: Friday, 4:20 p.m. until Sunday at 9 p.m.
Details: Creep Records will be hosting live music throughout the day by spotlighting local Philly bands. They'll also be selling discounted glassware.
Weeding out the stoned 4/20 edition 
Location: 215 N. 11th St., Philadelphia  19107
Starts: Friday, 8:30 p.m. until 11:30 p.m.
Good Good Comedy Theatre is back with its annual pot-themed comedy event. The show brings together sixteen standup comedians. All but one are baked. It's up to the audience to figure out who the sober one is.
Location: His & Hers Restaurant, 216 South Street Philadelphia 19147
Starts: Friday, 6 p.m. until 9 p.m.
Hosted by Urban Grace Media, an online blog that reports on culture, news, and music, the group will be bringing reggae and hip-hop vibes to His & Hers, giving you an opportunity to feel the rhythm and vibrations as your eardrums pulse to the music. Tickets are $15.
Location: National Liberty Museum, 321 Chestnut St, Philadelphia, 19106
Runs until June 10
Details: The National Liberty Museum is hosting a mixed-media event celebrating the classic tool used to combust smokables, the pipe. According to Meegan Coll, the National Liberty Museum's Glass Art Director, the exhibit features a chessboard where each piece is a small pipe as well as two glass electric guitars that are functional and are embedded with a pipe in them so one could smoke and play the guitar. It's exactly what the Grateful Dead would have wanted.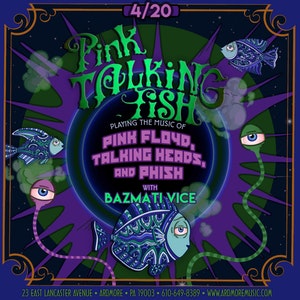 Location: The Ardmore Music Hall, 23 East Lancaster Ave., Ardmore
Starts: Friday 8:30 p.m.
Details: Pink Talking Fish, "a hybrid tribute-fusion act," plays the music of Pink Floyd, Talking Heads, and Phish. Bazmati Vice opens. Tickets: $22 to $35.