When you stop and think of everything that goes into an NLL game behind the scenes, it is pretty amazing. There's the ticket sales and marketing, the game operations, the owners, the general managers; the coaches, trainers and players; travel, logistics, etc. It amazes me to see the number of people that are so committed to the game. There are so many moving parts that have to come together for it all to come to fruition.
Perhaps the most thankless job in the NLL is the equipment manager. Players are pretty particular about their game and equipment preparation. Equipment managers deal with a lot of issues and they are usually in high stress situations. (Ex: drilling a head back on a handle in ten seconds flat so the player doesn't miss a shift). It's pretty remarkable to handle everything that includes figuring out the uniforms and managing the team's gear. Sometimes these tasks must be completed with less than a 24-hour turnaround.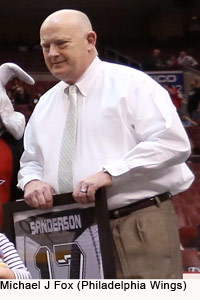 We are fortunate in Philly to have one of the best in the business, Michael J Fox (not to be confused with the famous Canadian actor). "Foxy" as he is affectionately known as by all that interact with him, would literally give you the shirt off his back. He actually recently lent Brett Manney his pair of shoes after Brett forgot his before the first game of the season. Foxy didn't hesitate. He continued about his business in the locker room in his socks.
The relationship with Foxy and the players stretches way beyond the arena. When our goalie Brandon (Miller) lost his brother Kyle, Foxy drove 12 hours to attend the funeral. It is a role that has many layers. (Side note: Foxy was a trainer for a camp that I worked. A young boy broke his wrist and Foxy made a cast out of a milk carton).