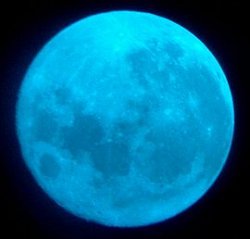 Connoisseurs of the full moon will be getting a double treat next month, which will be bookended by full moons on the 2nd and 31st.
Given that the lunar cycle unfolds over 29.5 days, it is unusual to get two full moons in a month, and that second one is commonly called a "blue moon." It happens once every two or three years.
Yet that definition of "blue moon" is quite modern, falling into common usage long after Rodgers and Hart wrote their famous song, "Blue Moon," and the Marcels covered it with a doo-wop version of the chorus.
The lyrics, by the way, stick with the evocative and poetical, offering no insights to the origins of the phrase, which may be lost to antiquity.