Zach Braff sold his film for $2.75M, but the Kickstarter contributors won't see any of that money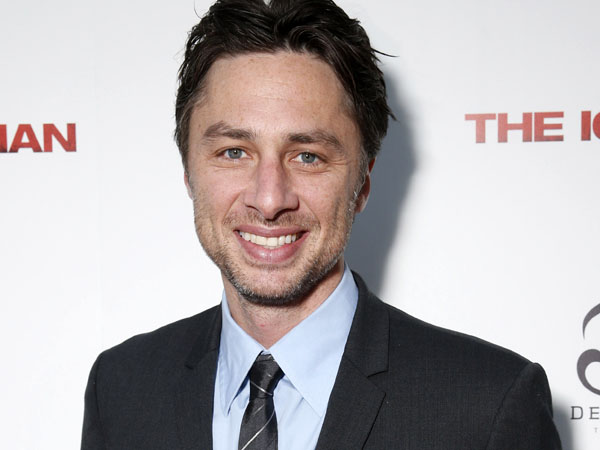 Last year, Zach Braff turned to the Internet for help. He was looking to make his sophomore feature film, Wish I Was Here, but felt as though the process of taking the film from his pages to a movie theater near you was going to permanently alter the story and message he wanted to convey with his follow up to 2004's indie sensation Garden State. (Seriously, that sound track, though..." - Every Hipster You Know, probably.)
Zach Braff sold his film for $2.75M, but the Kickstarter contributors won't see any of that money

Last year, Zach Braff turned to the Internet for help. He was looking to make his sophomore feature film, Wish I Was Here, but felt as though the process of taking the film from his pages to a movie theater near you was going to permanently alter the story and message he wanted to convey with his follow up to 2004's indie sensation Garden State. (Seriously, that sound track, though..." - Every Hipster You Know, probably.)
So, Braff created a Kickstarter campaign to help fund his movie. The campaign came with a video that went viral as many folks slammed Braff for abusing a medium designed to help the little guy, even though he was a successful Hollywood actor with a bevy of connections in the industry.
Fast forward to now. Wish I Was Here just premiered at Sundance in Park City. Many of the contributors to the Kickstarter campaign had their names in the credits, which were met with a roar at the screening in Park City. Braff and company have secured a deal for North American distribution worth $2.75 million, courtesy of Focus Features.
The folks who donated money to get the film made won't see any of that cash, though. And, really, that makes sense.
Braff received a little more than $3 million in funding through his Kickstarter campaign. But, the film's budget swelled to a little more than $5 million. They had to secure a loan to cover the difference and still needed Braff to contribute a substantial amount out-of-pocket to get the film made. More than that, though, the loan that they secured was contingent on the notion that an after-Sundance deal would enable Braff to pay it back.
Thus, all the folks that, essentially, invested in Braff's new movie got what they were promised: their names in the credits, tickets to premieres, T-shirts and the like, but won't actually be repayed.
But Sher also emphasized that, from her vantage point, the film's backers are completely fine with this arrangement. "It was never about investment," she said. "It was a donation with a reward based on their belief in Zach and wanting to see his ability to get his film made. We feel like we're the most grateful people to our backers, and we never stop thinking about them. We talked about them, what their rewards are, what are our obligations in every discussion we had about making a distribution decision. They're really excited. They believed in us when no one else did. They know that we love them. They're ready for the rest of the world to support the film in the way that they did." Sher also noted that the cast and crew worked for union scale, Braff placed his entire fee back into the film, and she and her producing partner Michael Shamberg did not take an upfront fee.
When asked if she would recommend using Kickstarter to other indie filmmakers in Braff's position — passionate about their film, and dedicated to not compromising their vision — Sher first explained that using crowdfunding "is not to be entered into without a very serious commitment to your backers, and an understanding that these people are your champions, your cheerleaders, and your market." [BuzzFeed]