The Onion has angered everyone ever by calling 9-year-old Best Actress nominee Quvenzhané Wallis the C-word on Twitter. The now-deleted tweet read:
Everyone else seems afraid to say it, but that Quvenzhané Wallis is kind of a c***, right? #Oscars2013
Subsequently, "The Onion" began trending on Twitter as people caught wind of the ill-advised joke. Wendell Pierce, of Tremé and The Wire fame, called out The Onion, asking that they expose the writer responsible.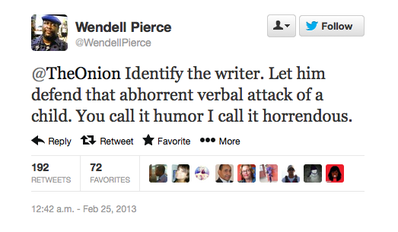 Wallis, who brought a puppy purse with her to the event, was also the subject of some of Seth MacFarlane's barbs during the broadcast.
During the Oscar telecast, host Seth McFarlane, in one of his many sexist and misogynist jokes of the evening, quipped: "So let me just address those of you up for an award, so you got nominated for an Oscar, something a 9-year-old could do! She's adorable, Quvenzhané. She said to me backstage. "I really hope I don't lose to that old lady, Jennifer Lawrence. To give you an idea how young she is it'll be 16 years before she's too old for Clooney." [The Daily Beast]
UPDATE: The Onion has since issued an apology on Facebook.