Rep. Michael Burgess of Texas became the latest politician to put the proverbial ball on the proverbial tee for everyone with a WiFi connection during a recent discussion on abortion limitations. Everyone get your masturbating fetus jokes ready.
Watch a sonogram of a 15-week baby, and they have movements that are purposeful. They stroke their face. If they're a male baby, they may have their hand between their legs. If they feel pleasure, why is it so hard to believe that they could feel pain?
While you're allowing those comments to fester in your brain for a minute (if it weren't for my horse, I wouldn't have spent that year at college), be sure to note that Burgess isn't completely crazy. The folks over at The Atlantic point out that Burgess—a former OB/GYN—is likely referring to an actual letter on the topic.
First, what is Burgess referring to directly? As The Atlantic Wire's Alex Abad-Santos thinks Burgess was talking about a 1996 letter to the The American Journal of Obstetrics and Gynecology. It's not available online, but Abad-Santos posted this excerpt: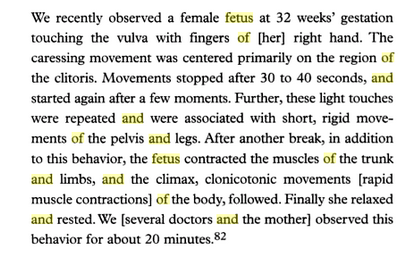 More than that, though, The Atlantic points out that the topic of fetal pain (and pleasure) is worth discussing because it seems to be the theater in which the abortion debate is set to take place.
It seems as though Burgess is playing a little fast and loose with the science, both on fetal masturbation and on fetal pain, and his comments on the former are being received as a bit of an absurdity. Rightly so, perhaps. But it's worth focusing on the fetal pain question, since it seems to be the focus of the abortion debate for the foreseeable future. With a sizable and energized pro-life caucus and a passionate base, Republicans in Congress show no sign of ramping down their campaign for 20-week restrictions.
Just something to think about while you make fun of Rep. Michael Burgess for talking about fetal masturbation. [The Atlantic Wire]