Moms: they're always looking out for our best interests. Whether it's urging us to take wear a jacket when it's raining (insert Matchbox 20 joke here) or putting notes in our lunches in elementary school, they're always trying to help.
Some might say that one Philly mom crossed a line, though, when she posted to Craigslist offering to "make [a young woman's] financial issues disappear" if she'd just take her son's virginity after a concert and teach him ALL of the sexual positions while dating him until the kid heads off to Harvard in the fall.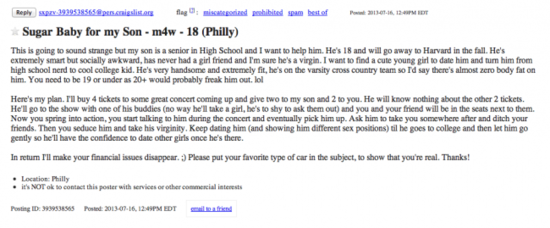 Ah, just like he'd always dreamed: losing his virginity in the backseat of his parents' car in the parking lot of the Susquehanna Bank Center to a woman he barely met and who is only there because the kid's mom is going to buy her a Miata for her troubles.
The post has since been flagged for removal.
Now, considering we're talking about Craigslist, there's always a chance that this could be a 52-year-old overweight, balding guy who sweats too much and just wants to sit next to a 19-year-old girl at a concert. But, at least over here, we're holding out hope that it really is a mom who's willing to buy a car for an opportunistic, sexually experienced young woman who might be interested in an, ahem, odd summer job. [h/t Daily Caller]