Allen Iverson was an 11-time NBA All-Star, took home an MVP trophy for the 2000-2001 season, added two All-Star MVP performances, scored more than 24,000 points, and said "practice" 24.5 times in one press conference.
In addition to these impressive statistics amassed over 14-year, Hall-of-Fame career, Iverson also managed to be mentioned in rap songs 36 times.
A San Francisco-based computer programmer has thrown together a gorgeous infographic that plots all of the instances that NBA players were name-dropped in a hip-hop song against their point totals throughout their careers.
Sure, Michael Jordan's 447 lifetime mentions dwarfs Iverson's 36, but the graphic is cool as hell and there aren't many people on this planet or any other that can say they've been mentioned in tracks from Jay Z, Nas, Kanye West, Ludacris, Mac Miller, Ghostface Killah, and a slew of other rappers. [bdon.org]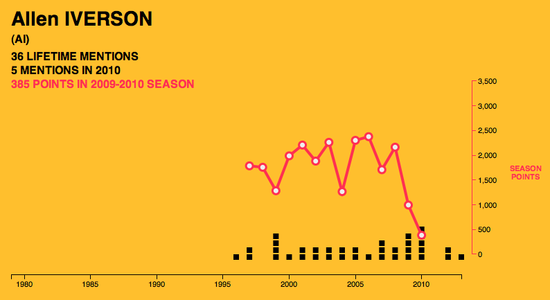 The interactive graph also includes a list of the songs and the lines that include the mentions.
Also, it's important to note that absent from this list is Eminem's mention of AI in his verse off the new Skylar Grey album that you should absolutely be listening to on repeat for the rest of your week. Though, technically not a rap song, a rapper still dropped AI's name, so we're going to round up and say it should count.
On Grey's "C'mon Let me Ride", Eminem offers this line:
Shagging's something I'm a pro at, but I ain't practicing sh**
Allen Iverson has safe sex, condoms are for practice, man, I skip practice
It's a Skylar Grey and Eminem song, so you should probably expect some of the language to be NSFW.