Who'd have thought that the threshold between adolescence and actual, full-blown adulthood would feature so much ramen and so few weekends in the Hamptons? #FirstWorldProblems
Frances Ha focuses on Greta Gerwig's Frances, a not-so recent college graduate who finds herself homeless and unemployed. But, it's the kind of homelessness that calls for crashing with friends for a few months and the kind of unemployment that's obligatory for anyone born between 1983 and 1990. The kind that comes with tons of Saved by the Bell reruns.
Her roommate, Sophie (Mickey Sumner), opts to move into a nicer apartment with a different friend. Instead of moving in with her boyfriend, Frances decides to set out on her own and ends up bunking with Lev and Benji (Adam Driver and Michael Zegen) while she sorts her life out. She's trying to be a dancer (kind of) and seeing boys (kind of) and keeping in touch with Sophie (kind of) all while simultaneously cultivating a friendship with her new friends/roommates/benefactors.
As their existence seems stagnant amidst news of friends entering committed relationships, switching jobs, and moving to different continents, Benji and Frances develop a bond over their nerdy complacency. They deem themselves "undateable," which—if it had come from Girls—would be a platitude expressed by Millenials in GIF form until the end of time. Paging #WhatShouldWeCallMe
Later, an embarrassing performance at a grown up dinner party leads Frances on a spontaneous and lonely trip to Europe and, subsequently, a desperate and lonely return to school. Where will she live? What will she do? Who will she love? Frances meanders through this time in her life so focused on the answers to these mysteries that she's hardly able to live the questions.
The film is not an episode of Girls. Sure, all of the similarities are there. Non-romantic, co-ed living arrangements, post-grad disillusionment, a female protagonist frolicking about New York City in chase of vague, artistic ambition. There's even the obligatory "self-wallowing in the bathtub" scene. The difference, though, is that Frances Ha director Noah Baumbach (The Squid and the Whale, Greenberg) manages to capture the listless existence of the Millenial poet without relying on the hyperbolic ingestion of illegal narcotics and the gratuitous use of the "abandoned warehouse rave" setting. He emphasizes the crippling worry, faux confidence, panging self-doubt, and the unknown abyss that punctuate the mid-to-late 20s for the Millennial generation.
In one Frances Ha scene, Adam Driver's Lev goes to get in the shower and walks between Frances and Sophie while wearing only a towel.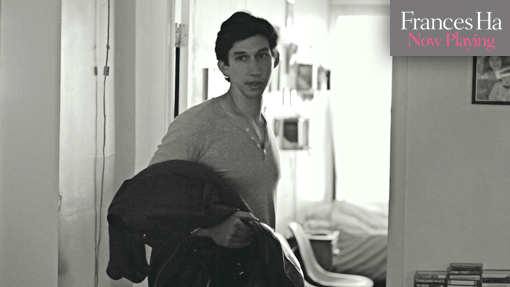 In doing so, he personifies what Lena Dunham does so blatantly and deserpately tries to accomplish with Girls. It's a literal, but subtle, commentary on the Millennial existence. It doesn't take a sexual deviant, a cultural nomad, a virgin who accidentally smokes crack, and a socially-abrupt, over-dramatic aspiring blogger poking her friends with stick (metphor!) to demonstrate the difficulty of growing up in modern society.
With Frances Ha, Baumbach, Gerwig and company demonstrate the egocentric nature of twentysomethings and rival the relevance of Girls, but do wo without the off-putting masturbation scenes, heightened insufferability, and trendy soundtrack.
Hopefully it means that we can stop referring to Greta Gerwig as "The Other Roommate (Not the Gay One) From No Strings Attached. No, Not Friends with Benefits. The One With Natalie Portman and Ashton Kutcher."
Also, the black and white was a nice touch.
On a scale of The Hangover Part III to The Shawshank Redemption, Frances Ha is an 8.5. It should be required viewing for anyone with an opinion on Girls.