On Monday night, the Alabama Crimson Tide curb-stomped Notre Dame on national television to the tune of 42-14. As the game got out of hand early, Americans looked for something to distract them from the public bludgeoning that was taking place on the field. Enter: Katherine Webb.
Webb is the girlfriend of Alabama quarterback AJ McCarron. She's attractive. So much so, that she was trending on Twitter and had Brent Musburger swooning over her during the game.
Here's everything you need to know about America's latest sweetheart.
Katherine Webb was named Miss Alabama USA 2012.
Katherine Webb's dating AJ McCarron—a memeber of the Alabama Crimson Tide football team—even though SHE GRADUATED FROM AUBURN. So, basically, the only way this ends is with a sonnet and some poison.
According to her Miss USA profile, Webb works as a training director at Chick-fil-A.
She wants to be a fashion designer.
Arizona Cardinal Darnell Dockett made a pass at Webb via Twitter. He offered to take her to Wing Stop and King of the Diamond Gentleman's Club. And they say chivalry is dead.
She has the patience to humor this guy with a 33-minute interview. Also, she played softball. So, there's that.
Webb doesn't have a Wikipedia page.

As of 1 p.m. Tuesday, Webb had 146,465 followers on Twitter. That's more than 437 for each of her 335 tweets.
Speaking of, Webb likes to tweet selfies.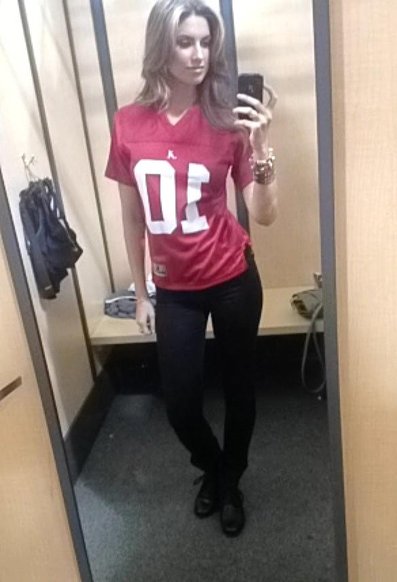 According to her bio, she's a fan of the Bible verse Matthew 5:16 which reads:
"In the same way, let your light shine before others, so that they may see your good works and give glory to your Father who is in heaven."