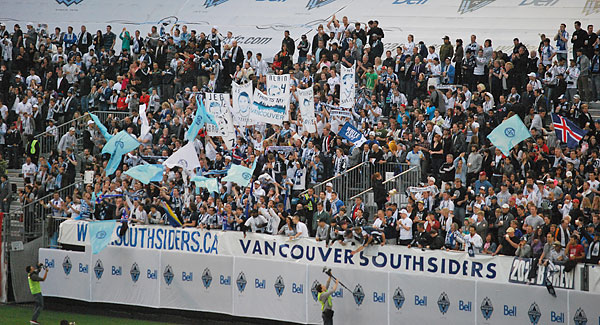 Vancouver's Southsiders supporters club celebrates after Alain Rochat scored the lone goal in the Whitecaps' 1-0 win over the Union at Empire Field. (Jonathan Tannenwald/Philly.com)
Union manager Peter Nowak

On Veljko Paunović

He's been with us for quite some time, and we're trying to figure out how we're going to play in the future. Maybe he was a little too far from Seba, but he did a good job to get the ball in good spots and spread it out. I think that for the 60 minutes we prescribed for him in this game, he did pretty well. You can see that he still needs match fitness, but I think it was a good chance for him.

[...]

We tried to manage his minutes, to bring him into the team. I think he got some very good touches - the ball he played to Justin Mapp to give us a chance to score was a great goal.
We tried to manage that, and have tried to figure out where he's going to fit the best - is it behind the striker, is it as a third striker, or just as a pure striker? We've got to figure this out, and we've got the time right now. The games are coming fast, but during the week you always have some time to figure out the best combinations.