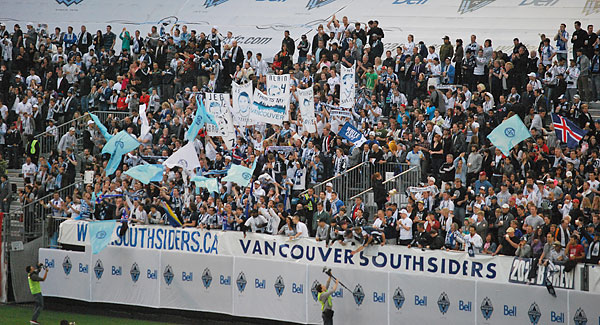 Vancouver's Southsiders supporters club celebrates after Alain Rochat scored the lone goal in the Whitecaps' 1-0 win over the Union at Empire Field. (Jonathan Tannenwald/Philly.com)
Union manager Peter Nowak
On Veljko Paunović
He's been with us for quite some time, and we're trying to figure out how we're going to play in the future. Maybe he was a little too far from Seba, but he did a good job to get the ball in good spots and spread it out. I think that for the 60 minutes we prescribed for him in this game, he did pretty well. You can see that he still needs match fitness, but I think it was a good chance for him.

We tried to manage his minutes, to bring him into the team. I think he got some very good touches - the ball he played to Justin Mapp to give us a chance to score was a great goal.
We tried to manage that, and have tried to figure out where he's going to fit the best - is it behind the striker, is it as a third striker, or just as a pure striker? We've got to figure this out, and we've got the time right now. The games are coming fast, but during the week you always have some time to figure out the best combinations.
Either it's going to be him with Carlos, maybe Carlos and Danny Mwanga or Carlos with Sebastien Le Toux. There are a lot of options, and it's good to have those options.
On Carlos Ruiz's absence
We know that Carlos is important for us, and he doesn't need too many chances. He's always in the right spots. We hope to see him tomorrow, and we're going to get back and get ready for Kansas City on Wednesday. He's an important piece for us, and we all know that. Carlos could be invisible, but when the time is right, he's going to be there.
So I think it's a good combination. We have a lot of choices right now, with Paunović and also with Carlos, to figure out what we're going to do up front.
On whether the artificial turf at Empire Field makes a difference
Absolutely. You can see it's quite different to play on. There's a lot of rubber and the ball bounces differently. We tried to train this morning to see and adjust to it, but if you don't see it and train on it every day, it can be difficult - especially with chances going forward.
And it's tight space, so it's difficult to adjust to that. But the surface is there for both teams, and the disadvantage is that we don't train every day on it.
On preparations for Wednesday's game against Sporting Kansas City
We will shuffle the deck as we always do. We try to balance minutes for the guys, because we know that some of these guys can do well with the game, the travel and how fast they recover...
We can adjust to see who can recover or not. It's important to know what's inside the player, not only his mind but also his muscles. We'll check that out on Monday, and then make decisions. As I said, we need to shuffle the deck. It's not only Wednesday, but also Saturday, both home games. Both results are very important to us.
As of late, when I look at the couple of games we've played lately, we're dropping points like a charity right now - giving life and points to other teams. We need to change that, and make sure that if we have chances to get goals, we do.
Because the team is working very hard. The pity is that you put so much effort in, and you're not getting rewarded, and all of a sudden the game is over.

Union forward Veljko Paunović
On making his Union debut
I felt good, especially in the first half. I think I gave the team some fluidity in possession of the ball, and I also think the Whitecaps had a good game. But we didn't deserve to lose. I think in the second half we had two very good chances, from Seba and Carlos Valdés. But we couldn't score and draw the game.
On playing up front with Sebastien Le Toux
We tried to have Sebastien as the first striker and to have me come in the middle and take advantage of the midfield, and in the first half I think we did it well. We just needed more concentration in the last 20 meters, to just find the last pass and score the goal.
I think in the second half we got to that point, but we missed. In soccer, the one who misses, he loses.
On the artificial surface
It's only sometimes that you notice. In the second half, I had the ball to cross it, and it just jumped. But it's normal. The turf is for us and for them, so it's not an excuse. It is different, but it doesn't have to be something where we can just say we could play better if we were playing on a natural field.

Union midfielder Justin Mapp
On the challenge that Vancouver presented
It was a challenge, but in the first half I thought we moved the ball pretty well. I personally had a chance or two early that maybe we could have gotten a goal, and changed how the game played out. Overall, I thought it was a great effort from the guys, and we just came up a bit short.
On dropping points in consecutive games
We feel like we should get three points every game, and they're all a challenge. But we feel like we could have gotten more points out of the last couple games, and we've just got to keep going. We've got two coming up this week, so we'll need to hopefully get three points in both of those at home.

Union defender Jordan Harvey
On the artificial surface
I've played on turf before, it's not any different than playing in Seattle or New England. You get used to it, and maybe they're more used to it because they play on it week in and week out. But I don't think it was an issue tonight
On the Union's struggles to build possession
I thought we had chances to build possession in the first half. We gave away some cheap balls, but in the second half I thought we did better and we created some chances.
On Veljko Paunović's integration with the Union
He's great. He finds great spaces on the field and looks to combine, and that builds into our mindset, our style of play. So I thought he did well tonight.
On the effect of the early goal
It was a good goal. I thought we were in the game until they scored that. I thought it was against the run of play, to be honest. I thought we had the bulk of the possession in the first half and I thought we were all over them, so I thought it was against the run of play
On what the team can do between now and Wednesday
We'll take a flight tomorrow, and try to take it easy up until Wednesday. That's all you can do. It's a quick turnaround, and I think the coaches will have a good game plan for us for Wednesday.
Union defender Danny Califf
On dropping points in consecutive games
We walked away feeling like we should have had three points against Real Salt Lake - certainly our play dictated that, but the scoreline didn't. Tonight we had a lot of chances to at least get a point out of this game, if not three, and we left them all for wanting.
On containing Eric Hassli
He's a big boy, and he likes to throw his body around. So it was a challenge tonight, but I thought for the most part we did a pretty good job of keeping him in check, and limiting their chances. I don't think they had really clean looks at goal, aside from maybe one or two.
On Alain Rochat's goal

I think any time a team is desperate for points and they're playing at home, and you give them life early in the game, it's going to be really hard to then come back and out and take that momentum away from them. I think that they scored against the run of play, and it kind of took the wind out of our sails a little bit.
But it was a great strike, it came through a lot of bodies - it seemed to have eyes for the back of the net. It was one of those ones where you had to tip your hat to him for a great strike. But that being said, I still think we had the chances to at least come out of here with one point.
Whitecaps coach Tom Soehn
Opening remarks
First, I'd like to bring up that it's been a tough week in the city of Vancouver. With the Canucks having such a great year, and what happened thereafter, it's something that I feel like the city needed.
Overall, Philly's a tough team to play. I've worked a long time with Peter. You know they're going to be organized and compact and hard to break down, and they're going to limit your chances. That first goal, we talked about limiting their chances, and about forcing them to come out a little bit.
On planning for Veljko Paunović
I just know Peter. He's going to always be compact and organized, and everybody's just a piece within the system. Whoever it is, the system isn't going to change. Peter's got the team in good form, they're doing well.