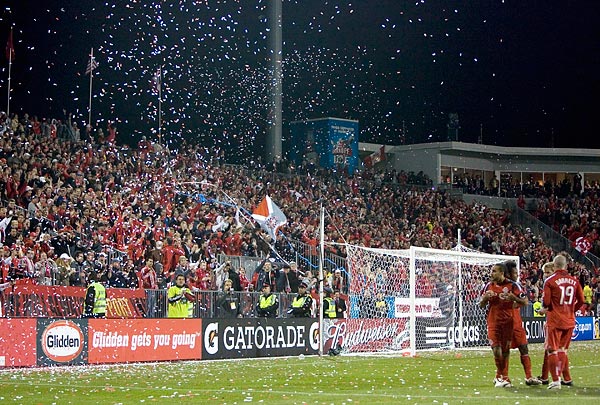 Toronto's Dwayne De Rosario celebrates his second goal. (Chris Young/Canadian Press/AP)
Toronto FC 2, Philadelphia Union 1
Daily News | Associated Press | Globe and Mail | Photos | Toronto Star | Photos | Stats
UPDATE: I see in the comments people are talking about the Torres substitution. I'll address that, with some quotes from John Hackworth, in Take Two. That will probably go up tomorrow as I'll be in transit the rest of today. Stay tuned.
TORONTO - The quote is rather self-explanatory. I asked John Hackworth after the game what he made of Chris Seitz's struggles this season, and here's Hackworth's answer:
There's no question about Chris Seitz. He is our goalie, he is extremely talented. He's a rookie, in the sense that this is his first true season as a starter in this league, and he needs these experiences. He's going to make some mistakes. We knew that coming into this, but we have full confidence in him. So for us, unfortunately, we have to accept it and move on.
I put together a video of postagme press conference highlights, as well as some interviews I did in the locker room. You can watch it in the player at right.
We'll have a lot to talk about when I get back to Philadelphia and watch the match replay.
For now, though, I need some sleep. So please share your reactions to the game in the comments.