On the radar for this weekend:
Saturday, Oct. 27 is the Academy of Natural Sciences' "Cuisine From the Collections," a $100-a-head cocktail party whose food and drink is inspired by the dead stuff on display, e.g. bugs, fungi, buffalo.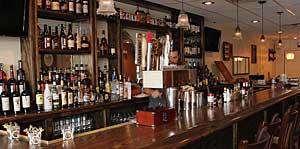 Saturday, Oct. 27 marks the debut of Lloyd, a whiskey specialist at 529 E. Girard Ave. in Fishtown. In fact, Fishtown is worth a look-see. Five blocks over, there's the new BBQ outlets Fette Sau and Bubba's Texas BBQ joining the crowd (Johnny Brenda's, Kraftwork, Interstate, East Girard Gastropub, Barcade), while a ways up Frankford Avenue are recent-comers Pizza Brain and Little Baby's Ice Cream - which now offers a flavor featuring Goldenberg's Peanut Chews.
New(er) brunch spots: Ela at Third and Bainbridge Streets (10:30 a.m. to 2:30 p.m. Sunday only); Barra at 239 Chestnut St. (11 a.m. to 3:30 p.m. Saturday and Sunday).
New taps: Vault Brewing Co. on Main Street in Yardley; the low-key Fountain Porter at 10th and Tasker Streets.
While you're stocking up on milk, bread and eggs for Sandy, pick up some cheese and potato chips.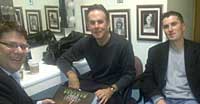 While interviewing Thomas Keller at the Free Library (he was in town Thursday with Sebastien Rouxel, his exec pastry chef and coauthor of the groundbreaking Bouchon Bakery cookbook), I recalled a sandwich he created at the behest of Men's Health mag.
It's the ultimate grilled cheese, and would be perfect storm food.
A Sandy-wich?
Keller's creation is just 4 or 5 potato chips; butter, softened at room temperature; 2 slices brioche, whole wheat, or sourdough bread; 2 slices of Cheddar; 2 slices of Swiss.
To make it:
1. Heat a cast-iron skillet or griddle to medium. Liberally butter both sides of the bread slices. Place two slices of Cheddar on one piece of bread; add the potato chips in the middle. Place two slices of Swiss on the other piece of bread, and put the bread slices together.
2. Place the sandwich on the skillet or griddle and cook until the bread is golden brown and the cheese melt together, 3 to 5 minutes a side. Cut them in half diagonally and serve. Makes 1 sandwich. Here's the link, which includes a video.
And here's a podcast of our chat at the library.
And guys, Kitchen Kapers is looking for your stuffing recipe. Enter to win gift cards and lifelong fame. Deadline is Tuesday. Details are here.