When Samer Albarouki, who owns Ed's Buffalo Wings & Pizza in University City, learned that the Mexican restaurant Zocalo was closing down the street, he put in a bid for the spot.
The corner property at 36th Street and Lancaster Avenue has a killer outdoor patio and a warren of dining rooms.
Albarouki is Syrian and Lebanese, and he and his wife enjoy Middle Eastern cuisine while smoking hookah. Which is the concept of Aloosh, which opened two weeks ago. Its liquor license is due next week; for now, the bar dispenses fruit smoothies. There's bellydancing Friday and Saturday nights.

Even before school season, it's already become a destination among Drexel and Penn students who groove on hummus and schawarma in colorful but low-lit surroundings while communally puffing. (I'm an avid nonsmoker and was impressed at the power of Aloosh's smoke-suckers.)
To see a slideshow of photos from Aloosh, click here.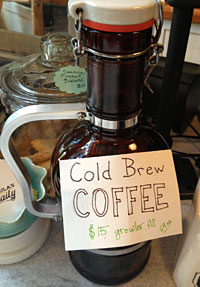 Harvest opens in North Wales. Sunday is the public debut of Harvest Seasonal Grill & Wine Bar in the Shoppes at English Village in North Wales. It's the third location of this calorie-conscious restaurant, after Glen Mills and University City.
Heirloom food tasting. Whole Foods at 20th and Callowhill Streets will host a program on heirloom foods from noon to 3 p.m. Saturday. Chefs will offer Heirloom Tomato Flatbreads, Heirloom Bean Hummus, Heirloom Tomato Parfaits and more as part of the What We Sow program. The Mural Arts Program will create a mural that first will be displayed at market café and then will be donated to Bache-Martin Elementary School and installed in its school garden.
Growlers - for coffee. You've heard of growlers, whereupon you tote a jug to a beer bar for filling? Talula's Daily, the new takeaway/cafe adjacent to Talula's Garden on Washington Square, does growlers of its cold-brew La Colombe coffee. At $15, it is not cheap, but it's potent and convenient.

Budino pops. Well, of course. It's summertime. Marcie Turney has converted her salted caramel budino, the signature dessert at Barbuzzo, into a pop. The frozen babies get a roll in chocolate cookie crumbs. Starting today, they will be sold at Verde (108 S. 13th St.) on Fridays, Saturdays and Sundays until the end of August.