Therein lies the Rubb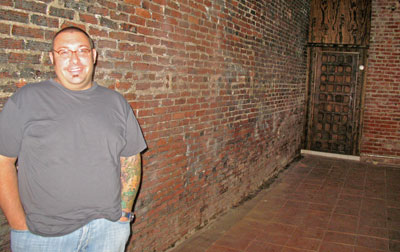 Matt Levin shares his Manayunk BBQ menu.
Therein lies the Rubb

Lacroix at the Rittenhouse alum Matt Levin did not have the menu for his forthcoming Rubb BBQ in Manayunk when we chatted last week.
But now he does. He's calling his casual concept "punk rock BBQ." All that, and bug juice to wash it down. He's looking at mid-fall at 4445 Main St., next to the firehouse and two doors from Liberties. He says he'll be cooking pulled pork and ribs in Saturday's Stephen Starr-Garry Maddox BBQ Challenge, confirming the Illadelph's blog post.
Meats
Hand-pulled pork
Beef brisket
Hand-pulled Elysian fields lamb leg
Homemade sausage
Local ribs- sometimes St Louis or baby back BBQ
organic chicken
smoked turkey breast
chili
Berkshire pork belly (bacon)
Sandwiches
Burnt ends on bread
Hand-pulled pork, mustard
BBQ beef, Guinness, smoked chilies
Spicy chicken, pickles, sweet cabbage
Smothered sausage, onions, herbs
Hand pulled lamb, long hots
Sides
Hush puppies, poblano ketchup
Collards with ham hocks and hot sauce
Hand-slammed fries, three dips
Corn on the cob, roasted garlic-lime butter
Cole slaw
BBQ'd black-eyed peas
sweet potato salad
corn bread
mac&cheese
Bug juice
Purple
Red
Orange
Sauces
Black pepper
Memphis mustard
Chocolate chipotle
Banana jerk
Roasted garlic ancho chili
Chimichurri
Mombasa pepper