Starr turn in Wash West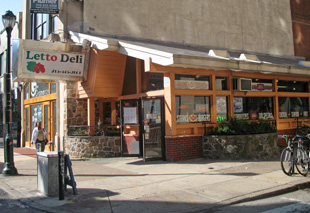 Restaurateur Stephen Starr says he has an agreement to buy the Letto Deli at 13th and Chancellor in Center City.
Starr turn in Wash West

Stephen Starr, who is about two weeks from opening Butcher & Singer steak house, told me that he has a signed agreement of sale for the neato, low-slung building that houses Letto Deli, still operating at 13th and Chancellor Streets in Wash West. Letto's owner and the building owner have not returned my calls over the last week.

Starr's ideas: Love Burger (his long-in-the-planning-stages gourmet-burger joint, whose name he registered with the U.S. Patent & Trademark Office) or a pizza/wine/beer restaurant with a cool aspect he's not talking about yet.