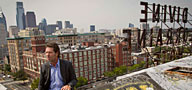 This one is speculative and tentative, so put down your fork:
Iron Chef Jose Garces is being wooed to open a restaurant in the Divine Lorraine Hotel at Broad Street and Fairmount Avenue, which developer Eric Blumenfeld is trying to take over and refurbish. Blumenfeld told The Inquirer's Jennifer Lin that he has entered talks with Garces. (See Jennifer's Sunday story about the project.)
I tracked down Garces in France, and he said he was interested in touring the space. "Talks" ... "interested" do not, of course, mean a deal.
And developers woo restaurateurs all the time.