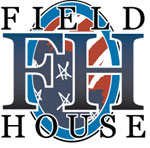 To answer one restaurant question: Where is Andrew Brown going, since Opa announced last week that the opening chef at the Sansom Street Greek restaurant was leaving?
He's going to the Field House, the sports bar/beer hall on Filbert Street across from Reading Terminal Market. It reopens at 5 p.m. Sept. 7 after a top-to-bottom renovation to impart a local theme.
Brown's pub menu will include scrapple, Taylor ham, cheesesteak, roast pork sandwich, and that curious Philly seafood-house staple of chicken salad with fried oysters.
Andy Farrell, who oversees the beer program at Field House's crosstown sibling City Tap House, will steward a 40-tap system - 90 percent of which will be sourced from within 100 miles of Philadelphia. There also will be wines by the glass and cocktails.
The place will have 35 TVs in five sound zones over two levels, plus a 14- x 8-foot projection screen on the first floor. Four private viewing rooms are due to open in October,
Field House will serve dinner seven days a week beginning at 5 p.m. Lunch will start the week of Sept. 17.
As for Opa: Brown's successor is sous chef James Wells.