Cliff Lee jerseys ... half off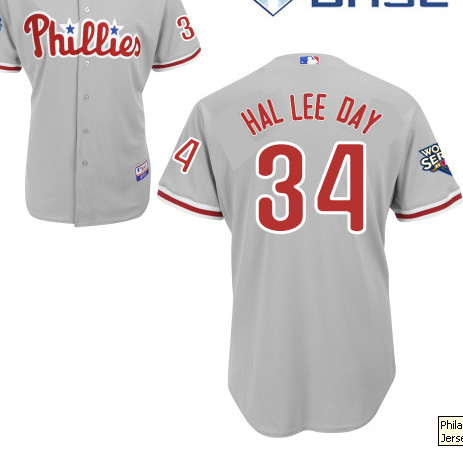 The Phillies are moving out the old #34 stuff in favor of Roy Halladay merch.
Cliff Lee jerseys ... half off
Wasn't too long ago that Phillies fans were swiping their credit cards to obtain #34 Cliff Lee gear.
Today, the Phillies have some jerseys and T-shirts left at the Majestic shop at Citizens Bank Park, and if you act now, they're half-off.
Move 'em out!
Roy Halladay merch is due in-store tomorrow: $209 for an "authentic" jersey, $119 for the "replica," $25 for a T, and $21 for a kid's T.
Roy Halladay will wear No. 34, the same number that Cliff Lee wore. That's …
If you're in a hurry, the shop will make you a one-off today: The authentic name/number is $219 ($179 blank + $40 for lettering) and the replica is $134 ($99 blank + $35 for lettering).
Halladay jerseys will not bear a World Series logo, as the other active-player shirts do.
At PhillyPhaithful.com, the whole Lee-Halladay switcheroo has founder Dan Hershberg offering coupons to those who bought his "Thanks, Cleveland" shirts when the previous #34 arrived and who want to buy his new shirt, "The Doc is In" shirts, lettered in Phillies-style script.
"I think the best move for those who purchased the Lee shirts as holiday gifts is to give the shirt as planned and then as the giftee is opening it, announce a trade and hit them with the new gift: the Halladay shirt," Hershberg writes. "Any Kyle Drabek shirts or Michael Taylor jerseys should be removed from the mantel and shipped quickly to Canada."
Ba-da-BUMP.