Below you'll find three charts courtesy of the fine folks over at BrooksBaseball.net. The colored arrows on these charts are my annotations.
The Cliffs Notes version: Jonathan Papelbon is releasing his fastball further toward third base than he was during his peak. When he talks about "flying open," which he did last night, this is a pretty good example of it. Instead of moving in a straight line toward the plate, he is deviating. At least that's what he says. Maybe it is mechanical. But it has been happening over the course of time, which could be an indication of physical change.
Combined with a drop in his velocity, it's not a surprise that Papelbon has looked erratic dating back to the second half of last season. Yesterday, he was consistently up in the zone.
The first chart: Papelbon's month-by-month velocity over the course of his career. As you'll see by the yellow arrows, his velo during his physical prime pretty much remained steady at 95 MPH over the course of a season. As he aged, it would take him a little longer to build up max velo. Last year, though, his velocity decreased steadily throughout the season.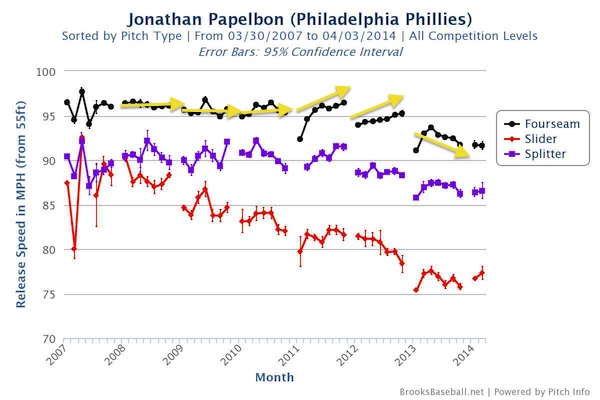 The second chart: Papelbon's horizontal release point, by month. The yellow arrow is the linear change of his release point between the last months of each season. The orange arrow is the linear direction of the change in his release point in the first month of the season. The red arrow is the linear direction of the two in tandem.
The third chart: Papelbon's average horizontal release point, year by year. This one makes it pretty clear that he is is trending toward a wider release point.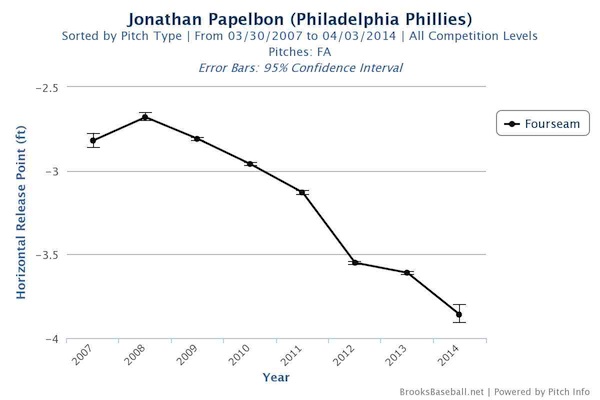 Anyway, there's your visualization. Feel free to discuss.
Get the full High Cheese experience at PhillyDailyNews.com.