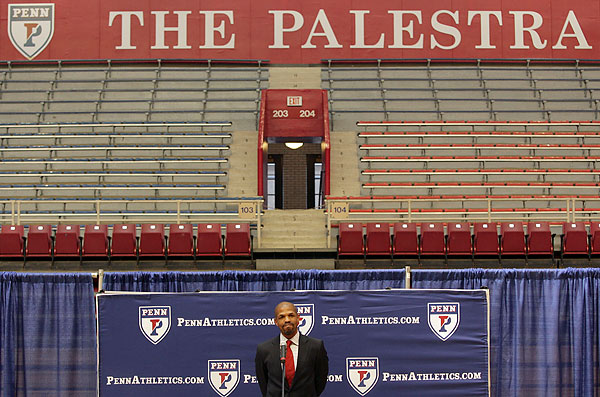 Photo by Yong Kim/Staff Photographer
The first thing Jerome Allen did after being officially introduced as Penn's basketball coach was thank everyone.
And by everyone, I mean each individual who was sitting in the stands of the Palestra Wednesday afternoon.
Fran Dunphy got a mention. So did his assistant, Shawn Trice, who was Allen's roomate at Penn. So did former Quakers star Stan Greene. Penn's athletic director, Steve Bilsky, was thanked multiple times.
The basketball team's equipment manager got a shoutout, and informed Allen that he wouldn't have to steal stuff from the Palestra anymore. Allen's former academic advisor, Dr. Harriet Joseph (a longtime reader of this blog, it should be said) was mentioned. And of course credit was given to Allen's wife, children, parents and grandparents, one by one.
It took a while to get through all the names, but no one seemed to care. This was a day in which the Penn basketball program somehow managed to take in its past, present and future all at once.
In a way, though, it was impossible to avoid doing just that. The man standing on the podium was one of the all-time great players in Quakers history, but now he was wearing a suit and tie instead of a jersey and shorts.
Allen's players were seated in the front rows of the sideline chairbacks. His former coach was seated up high in the bleachers, almost right under the 1994 Ivy League championship banner.
There were moments of silence and moments of storytelling. Some of it was humorous, and some of it was profound.
But it was certainly all heartfelt. And its ending was as straightforward as it gets.
"We will get it done," Allen said. "We will get it done."
I've transcribed some of Bilsky's and Allen's remarks below.
In the audio player at the bottom of the post you can listen to the entire press conference. There is some static on the line, but it's pretty clear overall. After the formal remarks were over, I took out my video camera and interviewed Bilsky, Dunphy and Zack Rosen. You can watch that in the video player at right.
And of course, you can share your thoughts below.
---
Steve Bilsky

I told [Jerome Allen] that the competition was going to be strong and fierce, and I was committed to a full search. His response to me was, "I want the job, but I respect competition, and I know you'll do what you need to do to get the best person. And if I am that best person, that's great, and if not, I will support that candidate and I will support Penn basketball."
I know there were people who said, why didn't you hire Jerome earlier, why didn't you hire Jerome after we beat Cornell, or why not anoint him? That's not what competition is about. Competition is winning, and learning from it. Jerome understands competition. While we're here to win, sometimes you grow and become better by the act of actually competing for something. Jerome, if nothing else, is a competitor.

Last but not least, the final trait is, I like his wardrobe. I like the way he looks. He's a good-looking guy, he represents the school well. I have no doubt in my mind that he is going to be a great ambassador for Penn basketball, for the athletic department, for the university. He's going to bond with our alumni, he's going to bond with students on campus. He's a great Pennsylvanian, and I think his best days are ahead of him.
Jerome Allen
That man [Steve Bilsky] took an unbelievable risk in making this decision. I'm forever in debt to him, because he probably saw some things in myself that I might not have recognized at the time. That takes a lot of courage, it takes a lot of experience, it takes a lot of trust to be able to tell someone else that you think they can lead a group.
Not that I'm looking at an endpoint, but some day, I'll be removed from this position, whether it's because he [Bilsky] wants another coach, or because it's my time to be put in the dirt. But I want to use this time to make sure that I give this university its just due, because it means a lot to me.
[...]
I want to thank Steve, and I know I said it earlier, but I want to thank him again. Because he didn't have to do it. All the great things he stood up here and said, I'm not believing of all of them completely. Not because I don't believe the words that came out of his mouth, but I'm just so humbled and appreciative of the opportunity that I refuse to allow myself to bask in the glory. We have a lot of work ahead of us, and I'm up for the challenge.

[...]
As my oldest daughter would say, I'm the 'Black Italian' because I like to wear my suits tight. But I just want to implement my own style, and as a staff go forward and put a product out there that every one of you will be proud of. Guys playing the right way, playing hard, playing for one another, enjoying their experience, having fun, and really sharing their success with the entire Penn community.
Because it's not about us. It's not about us.
[...]
You couldn't imagine how I feel right now, because I keep saying I feel like I'm living a dream. And I'm going to keep coming to work every day in that same mindset, because it's going to allow me to stay humble, hungry, aggressive and appreciative.
Your browser does not support the audio element.