Super Bowl champ Drew Brees at Sam's Bar in Blackwood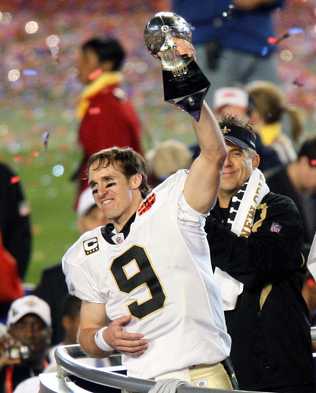 Saints QB Drew Brees spent two hours at Sam's Bar & Grille in Blackwood, NJ Friday afternoon with assistant coach Joe Vitt, who's from the neighborhood.
Super Bowl champ Drew Brees at Sam's Bar in Blackwood

It's not everyday you see a limo outside Sam's Bar & Grille (1007 S. Blackhorse Pike) in Blackwood or Saints QB Drew Brees inside. But the Super Bowl champ spent about two hours there Friday afternoon along with Blackwood native Saints assistant head coach Joe Vitt and a few other Saints coaches and staffers. Brees, who had pizza, was very gracious, signing autographs and taking pictures with fans whose numbers multiplied as word of Brees being in the bar got out. They chose Sam's because Vitt went to Highland High in the '70's with bar owners Sam Sarin and Mike Romano and wanted to show Brees and the guys around the neighborhood. The gang drove to Blackwood after they flew into Atlantic City International Airport for tonight's night's 73rd Annual Maxwell Football Club Awards at Harrah's where Brees and Saints coach Sean Payton are among honorees.