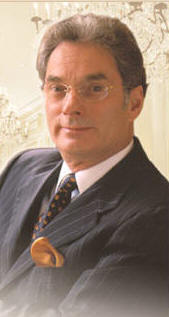 Le Bec-Fin (1523 Walnut) is rumored to be closing its doors. We reached chef/owner Georges Perrier moments ago who told us "I have nothing to say. Watch Action News tonight." When we pressed whether Action News would be reporting on the restaurant closing, Perrier in an angrier tone said "I have nothing to say. Watch Action News." The upscale restaurant opened in 1970 and has been a destination for foodies worldwide. In December Le Bec-Fin stopped serving lunch on the weekdays and of recently started a catering division. We had been hearing recently the place was not getting the dinner bookings it long had, but only today did word get out that it could be closing.

UPDATE: 6ABC morning anchor Tamala Edwards, whose husband Rocco Lugrine, is the pastry-chef of Le Bec-Fin and Perrier's catering division, is promoting an exclusive "blockbuster announcement" from Perrier on tonight's 11 o'clock news. In a teaser posted here, Perrier wipes tears from his eyes, saying "I'm sad for this time."
UPDATE: We're now hearing that the "blockbuster announcement" is not that Le Bec-Fin is going to close, as had been rumored earlier, but that the overpriced French eatery's prix fixe menu will be going a la carte in the near future. Looks like Perrier's tearful interview is part of a late and not that funny April Fools' gag.
UPDATE: So on Perrier's advice, we watched Action News. The "blockbuster announcement" is Perrier's decision to give up the Mobil Dining Guide's Five-Star Award, putting less pressure on himself and the restaurant, allowing it to introduce an a la carte menu, welcoming people wearing jeans, and hoping to draw a younger crowd. Animal-rights advocates we spoke with today are hoping Perrier's next announcement is that he has stopped offering foie gras.