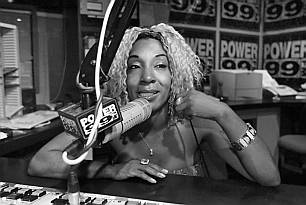 Steven M. Falk/Philadelphia Daily News Alejandro A. Alvarez/Philadelphia Daily News
Media Take Out has posted a very explicit account of an alleged sexual liaison between Power 99's Golden Girl and pint-size hip-hop princess, and former Center City resident Lil' Kim, that's said to be from Golden Girl aka Lisa Natson's upcoming book, "Sex & Celebrities: The Truth, the Whole Truth, the Naked Truth". According to eVIPlist, the book also chronicles Golden Girl's sexual exploits with R&B singer Ralph Tresvant and Allen Iverson, before the former Sixers star was married. Golden Girl sent lots of shout-outs to Kim while she spent 10 months at the Federal Detention Center (7th & Arch) on a perjury rap, but in the book excerpt there is nothing indicated as to when or where the girl-on-girl action went down. Our e-mails to reps for Lil' Kim and Golden Girl were not immediately returned. The book, according to an Inqwaster report, came out just before Christmas, and it is listed for sale, though out of stock, on Amazon. It may have been a small run, which is why details from the book are only now coming out.
The book can apparently be ordered through Golden Girl's website, on which the DJ also sells a lesbian-themed DVD called "Chix with Chix and Plastic D--ks," which judging by a not-safe-for-work clip, consists largely of naked women covered in dollar bills, grinding on a dance floor as Golden Girl aka the "Black Barbee" hosts the festivities.
UPDATE: SouthernGurl of RealGossip101 wrote to us with this link that reported the Lil' Kim/Golden Girl story more than a week before Media Take Out. Looks like it was her scoop. Meanwhile, stay tuned for Kim's comments...
UPDATED AGAIN: IT'S JUST A FANTASY. We spoke with Golden Girl late Monday night. She says the portion of her book about Lil' Kim was clearly presented as a fantasy in her book, not as something that has actually happened. "It's kind of annoying because everything I've written in the book is true," but that part was presented as a "dream sequence/fantasy." She was surprised the misrepresented story got such traction on the Internet. Earlier in the day, we had gotten a response from Lil' Kim, through her lawyer James J. Leonard, Jr. Kim said the graphic account was "lies in efforts to sell some books and make some money," and that she was "considering legal action." Hopefully once Kim learns that the graphic tale was Golden Girl's fantasy, not something that the DJ claims occurred, she'll be flattered to have inspired such down and dirty details in the DJ's dream.