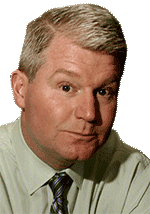 Former City Paper managing editor Brian Hickey has been named the campaign manager of electricians' union leader John Dougherty's bid for the 1st District seat that embattled state Sen. Vince Fumo is trying to hold onto.
Hickey says covering politics for the City Paper, and before that at Philadelphia Weekly has given him "a strong sense of the issues that matter most to Philadelphians. I fully expect that the lessons from the journalism world will help me share John's largely untold story with the voters. Once they hear it, they'll understand why a long-time alt-weekly guy would jump at the opportunity to work on his behalf," Hickey says.
Asked if he thinks joining a campaign is putting the nail in his journalistic coffin, Hickey, like a true political operative, didn't give a direct answer. "Writing and journalism have been my passions since I was a little kid reading the Daily News over a Saturday afternoon bologna sandwich, but I'm excited by this new challenge and opportunity," he said.
Among Doc's other hires is Micah Mahjoubian, the legislative affairs adviser to Mayor Street. He has joined Doc's campaign as senior adviser and operations director. Mahjoubian made headlines in November when Mayor Street performed the commitment ceremony for Mahjoubian and life partner Ryan Bunch.