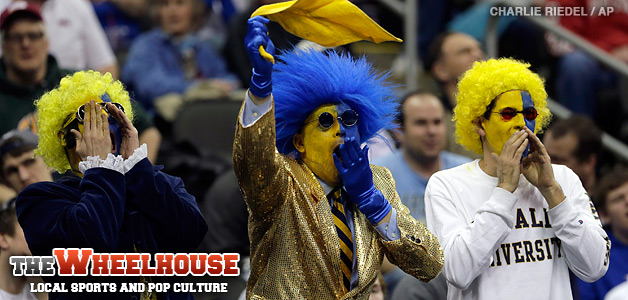 We saw over the weekend how far studetns are willing to travel to see their school's Cinderella story. Now, with La Salle cracking the Sweet 16, Explorers are gearing up for cross country road trips, due to the graphic nature of flight costs on a student budget.
However, student reporters are having their trips funded; in one case, a writer from La Salle had $8,000 raised to allow her to make the trip and cover the team. It's like the NCAA doesn't consider campus newspapers or players' roots when they're organizing the schedule.
On the other side, La Salle's opposition Wichita State got a surprise visit from Tim Tebow, who taught them a valuable lesson about achieving success and popularity and how it can all disappear the instant everyone realizes you possess no fundamental skills whatsoever.
FLYERS ASK YOU TO PLEASE REMEMBER THAT OTHER, SUCCESSFUL SEASON
Comcast-Spectacor has been so impressed by the Flyers' season this year that they are going to build them a statue.
Now, the last place, 13-16 Flyers may not be your first choice for immortalization this year. But that's why the statue is going to be a seven-foot tall monument of Bobbly Clarke and Bernie Parent hoisting the Stanley Cup, one of the most gratifying and beloved moments in Philadelphia sports history, rather than a statue of Claude Giroux being less effective without Jaromir Jagr.
Hmmm. I had my money on the next Flyers statue hitting the scene to be Todd Fedoruk getting knocked out by Colton Orr. There goes $20.

— FlyersGoalScoredBy (@FlyGoalScoredBy) March 25, 2013
THE 'Z' STANDS FOR 'ZOMBIE'
And why not start your day with a little blatant terror?
The newest trailer for Brad Pitt's World War Z shows there's no place on earth where we'll be safe from zombies when the time comes. But we'll mostly not be safe in Philadelphia, where part of the movie was filmed.
Philadelphia, in this case, is playing the part of Glasgow.
PREPARING FOR THE INEVITABLE
The Eagles' rebuilding project took another step by signing a punter in Donnie Jones, formerly of the Texans. Judging by Chip Kelly's wacky offense, he will spend most the season passing on fake punts and the even less effective ploy of punting on fake passes.
No, Kelly has actually stated he won't be turning the NFL upside down with a highlight reel backed by Benny Hill music. Jones' primary duties will probably just include jogging out onto the field while everyone in the stands shakes their heads and complains.
The move pushed former punter Mat McBriar off the roster, but allowed for Jones to play somewhere where he feels "wanted" and also allowed the Eagles to lavish their new player with compliments.
#Eagles GM Howie Roseman: P Donnie Jones "has one of the strongest legs in the entire NFL and we're excited we had a chance to sign him."

— Philadelphia Eagles (@Eagles) March 25, 2013