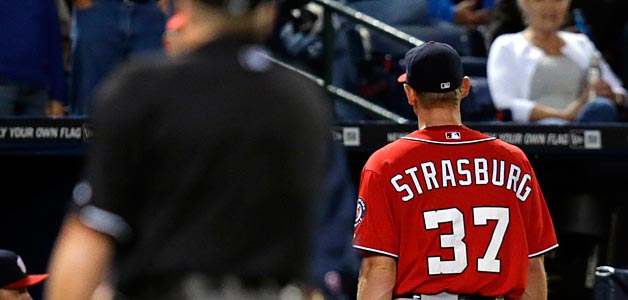 The Braves have had no shortage of instigation against the Nationals this year.
The two teams sit atop the NL East at the moment, with the Nats a jarring 14.5 games lower. The lack of a threat to the Braves' dominance has not limited their throwing at Bryce Harper, however.
Maybe they're bored.
And although Braves pitchers have sworn that nothing was done on purpose, the Nationals still did not take too kindly to Harper in particular becoming a magnet for beanballs.
So, the Nationals brought their ace Stephen Strasburg out of stasis - careful, he'll break - to unleash his fury on the Braves. Strasburg pegged Justin Upton, and the matter was "settled"... until he then also tried to hit Andrelton Simmons.
As can be expected, this led to a lot of jogging and pointing.