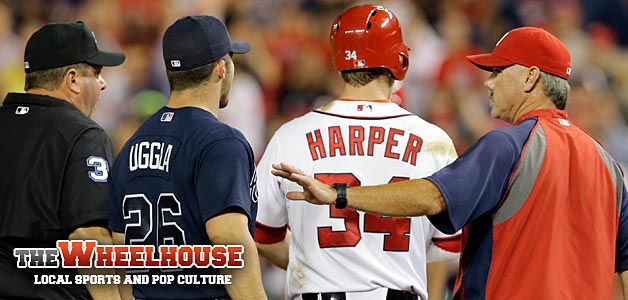 Bryce Harper had some stuff to scream at Julio Teheran last night, getting an offensively inside pitch after hitting a home run in his previous at-bat.
This of course prompted some verbal sparring between Nationals and Braves Twitter accounts (Chipper Jones chimed in, too!), because it's 2013, and this is how we brawl now, I guess.
@Braves Which part, giving up the home run, or drilling the 20-year-old on the first pitch his next time up?

— Washington Nationals (@Nationals) August 7, 2013
D'aaawww.
Now Bryce Harper isn't a stone cold phenom; he's a dainty, innocent "20-year-old" flower who needs the protection of his team's Twitter account.
Really sticking it to those Braves, Nationals, putting yourselves 14.5 games back and all.
Meanwhile, the Phillies actually won a game last night, putting them a mere 17 back. Let's keep that momentum, fellas.
THIS HEADLINE NOT WRITTEN BY SYLVESTER STALLONE
Those crouched over their computers, awaiting Expendables 3 news from Sylvester Stallone's Twitter account were rewarded with an all-caps casting update.
WILLIS OUT... HARRISON FORD IN !!!! GREAT NEWS !!!!! Been waiting years for this!!!!

— Sylvester Stallone (@TheSlyStallone) August 6, 2013
Harrison Ford, who despite the type-casting of his roles, still sets a higher acting bar than most of the principal members of Stallone's cast, will be gallivanting around with the likes of Jason Statham, Wesley Snipes, Jackie Chan, and Mel Gibson. But not Bruce Willis, who many are presuming was lampooned after some creative disagreements, Sly-style.
Meaning, in all-caps and on Twitter.
GREEDY AND LAZY ...... A SURE FORMULA FOR CAREER FAILURE

— Sylvester Stallone (@TheSlyStallone) August 6, 2013
SO YEAH, THIS GOES ON FOR THREE MINUTES
DID YOU HEAR THE ONE ABOUT BARRY BONDS USING PERFORMANCE ENHANCING DRUGS
Six years ago, Barry Bonds became the all-time contorversy leader in baseball.
Which means today will be a day of holier-than-thou baseball writers retweeting witticisms from the Barry Bonds joke recycle bin.
On this date in 2007*, Barry Bonds became the all-time "Home Run King." #hankrealchamp

— Len Berman (@LenBermanSports) August 7, 2013
Get it? No?
Well, you'll have all day.
THEY MUST BE DAFT
Daft Punk canceled on Stephen Colbert to appear at the MTV VMAs, but Stephen Colbert canceled on disappointment.