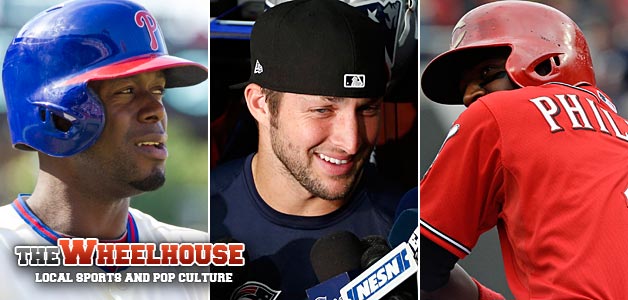 The Marlins tried to sneak two runners onto a single base. Naturally, the baseball press blamed Yasiel Puig. This and other Tim Tebow news awaits us today.
Well, I hope you know how to subside on shaming, self-righteous columns written by men with varying degrees of hair, because that's what Yasiel Puig sentenced us to after getting benched in mid-game for "

disciplinary reasons

."

Aw, come on, Marlins.
[Cut4]
Tim Tebow may not be able to throw very accurately, or while running, or during a football game, but I'll be gosh darned if he's not

gonna get one more chance

.

"I have a lot of friends who have been hit by cars," is something

a cyclist really shouldn't have to say

just because he or she lives in a big city.

Adam LaRoche feels bad enough about striking out, he doesn't need you mouthing off to him, floating baseball helmet.