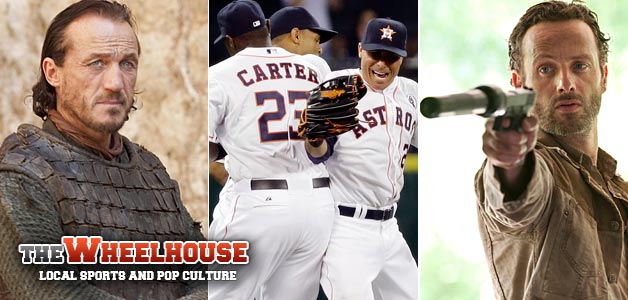 Life is full of difficult choices, like leaving everything you know behind to defend the world from thought-dead ice zombies, or choosing to watch the first real baseball game of the year even though it's the Astros.
Last night, we were all forced to make similar choices when it was decided that the 'Game of Thrones' premiere, the 'Walking Dead' finale, and the opening night of Major League Baseball would be piled right on top of each other. It was stacked overstimulation on the same plain as playing with 14 dogs in a field.
An easily resolvable issue, certainly [encores, the internet, etc.]. But in the age of live-tweeting and spoilers, it wasn't hard to believe that somebody out there held the fate of your evening in the tips of their fingers. It was hard to believe that modern television couldn't come up with a way to combine all three at once, however.
[Game of Thrones season two SPOILERS]
Not a lot of people noticed Bud Selig's cameo as the screaming, white-haired zombie general.
BLUE DEVILS AREN'T GOING DOWN TO GEORGIA
Following one of the most horrid things ever witnessed in a basketball game, an atrocious leg fracture to Lousiville's Kevin Ware during which some of his teammates "withdrew in horror upon seeing the extent of his injury," Louisville pulled off a dominant 85-63 victory over Duke.
With the image of their fallen teammate still fresh in their minds, Louisville had an additional element of gore to battle mentally while also trying to beat one of the country's most renown and despised opponents, Duke, at something that has made them as renown and despised as they are, basketball.
But the Cardinals pulled through, after demands from Ware to win the game, and will be in their second consecutive Final Four, while Duke goes home to try and get that image out of their heads.
The injury, not Chris Farley as Christian Laettner.
BEYOND THE STARS
Baseball improves mightily today, as for the first time all season, it won't just be the Astros playing. Everybody gets a go this evening (including the Phillies in Atlanta) whether they are ultra-powerful (Angels), broken and miserable (Yankees) or kind of just look like that all the time (Miami).
The palpable part at the moment is the narratives flowing into the season, namely in the Phillies' own NL East. New leadership looks to takes its place in the Nationals, who have every reason to believe they are World Series-bound from day one, which means they will probably just make the playoffs and then get swept out by a team of rag-tag has-beens who happened to take their meds on the right day.
Then there's the Mets, whose tagline appears to be "David Wright--he agreed to be here," the Braves, who went with the less inspiring "Chipper Jones is not coming back," and the Marlins, whose Opening Day lineup is full of interesting choices that get a little better if you set them to some cool, tropical, up-tempo beats.
The Marlins are batting Placido Polanco cleanup on opening day.

— Matt Gelb (@magelb) March 31, 2013
But not much better.
ALL THE SINGLE CITIES
Congratulations to Philadelphia, where if you are a bachelor with a bachelors' degree, you are part of the reason the city was selected as the third best American city for single people, behind New York and Toad Suck, Arkansas. I mean, Los Angeles.
It's no surprise, really, especially at this time of year. The Piazza fills with nice folks, tapping their feet to live music. The Eagles aren't in-season, so there aren't any random trash cans sailing toward storefront windows. And who of us hasn't experienced the simple majesty of a school bus barreling through Old City filled with drunk college students, screaming obscenities out the windows?
Ah, to be single in Philadelphia in the spring time.