George Clooney is on the campaign trail, and on his game, at Toronto film festival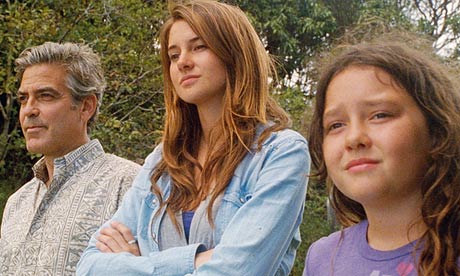 The star of two of the Toronto International Film Festival's biggest pics, both heading for release this fall, works the crowds like he's running for something.
George Clooney is on the campaign trail, and on his game, at Toronto film festival
"Welcome to the George Clooney Film Festival," cracked Alexander Payne, on stage at the Elgin Theater before the official world premiere of The Descendants Saturday night. The crowd of several thousand in the historic theater laughed at the filmmaker's joke – many of them had just shaken hands with the Hollywood star as George Clooney, in natty suit and tie, worked the line along Yonge Street before the screening. The actor, whose other Toronto Film Festival entry is The Ides of March, in which he's a Pennsylvania governor running for the presidency, seemed to be in that role still: as he walked along Yonge, he was flanked by uniformed and plainclothes police, glad handing and gabbing with the eager Torontonians lined along the barricade as if he really was on the campaign trail.
And anyway, in a sense he is – the Oscar campaign trail. It will be a shock if Clooney doesn't win a best actor nomination for his performance in Payne's beautiful, funny, tough-minded portrait of a Hawaii lawyer whose workaholic life is upended when his wife, in a boating accident, slips into a coma. Clooney's character is thrown into the unfamiliar role of hands-on Dad to two troubled kids, a potty-mouthed pre-teen and her troubled high-school age sister. He cries. He cusses. He runs goofily. The hurt and shock, heartbreak and bafflement, are palpable.
Payne, Clooney, Shailene Woodley (the older daughter), Amara Miller (the younger) and Nick Krause (the teenager's stoner boyfriend) took to the stage and faced a standing ovation after the film. A quick Q & A had Clooney in goofy, self-deprecating mode, handing money to Miller when she said how great it was working with him, joking that his Descendants wardrobe of Hawaiian shirts, shorts and sandals made it unlikely that he'll ever again appear as People magazine's Sexiest Man Alive. (Maybe he could get on the cover of the AARP mag, he suggested.) And when someone in the audience asked how it was to finally play a family man after all these years of suave criminals and debonair action heroes, the famously single star got jokingly defensive, insisting he had been a "family man" before. "I was the father in Fantastic Mr. Fox," he noted, referring, of course, to his voice role in Wes Anderson's Oscar-nominated animated feature.