To revitalize Ardmore, Cricket Lot will have to be first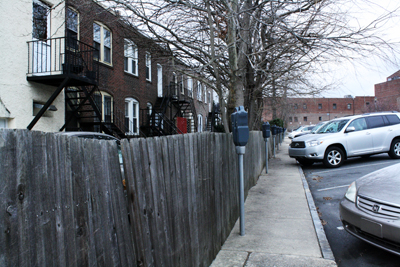 While plans to build the Ardmore Transit Center are currently on hold because of a funding gap, Dranoff Properties discussed the possibilities of the Cricket Lot with residents, business owners and commissioners at last night's Ad Hoc Ardmore Committee meeting.
To revitalize Ardmore, Cricket Lot will have to be first
If Lower Merion Township could give Carl Dranoff the green light today, his company, Dranoff Properties, could break ground on a 145-apartment building with retail space and an underground garage to replace the surface Cricket Lot in a year. It would be the first step to implementing the long-awaited Ardmore revitalization project, which includes plans for a new, ADA-accessible train station.
If agreed upon by the Board of Commissioners, funding for making over Cricket Lot is available. Currently, the township has $15.1 million worth of Redevelopment Assistance Capital Program grants on hand. But in order to spend that money, there must be someone willing to match the grants dollar-for-dollar.
At Thursday night's Ad Hoc Ardmore Committee meeting, Dranoff said he has the private funding in place to do just that.
Though the township, Dranoff Properties and the Board of Commissioners intended to make the Ardmore Transit Center the first phase of the revitalization project, lack of funding and failure to attain a $25-million TIGER grant from the U.S. Department of Transportation led everyone to seek alternatives. Though the township applied for another TIGER grant – Township Manager Doug Cleland said the decision will come by the end of March or beginning of April – one thing is clear: Private funders wouldn't pay for a train station, but they would back plans for a luxury apartment building.
Realizing that in order to maintain feasibility they needed to reverse the order of the projects, the township began identifying areas of improvement for the Cricket Lot. Originally, plans called for 113 parking spaces, but Dranoff prepared the plans with the intention that a parking garage would already be built nearby as part of the Ardmore Transit Center.
"We had to amend the plan for Cricket because we had made the assumption it would be the second part of the project," Dranoff said. "In recent deliberations, we were asked to relook at the Cricket Avenue site to accommodate as many if not more spaces as there are right now."
By adding two additional levels of parking behind the apartment building, plans now show there would be 243 spaces, which is 60 more than the current surface lot on Cricket Avenue.
But Rich Carpenter, whose back yard property line is separated from the Cricket Lot by a fence, voiced concerns about parking for current property owners on West Athens Avenue.
"What if people have more than one car," Carpenter said. "Will they be able to get street permits too?"
Carpenter's neighbor Catharine Klimczak shared the same concerns, noting she's constantly feeding the meters to keep herself ticket-free. Klimczak lives in the same house four of generations of her family occupied, and she heard rumors the township wants to demolish her home to make room for the apartments.
"I can tell you with absolute certainty that is not true," Commissioner Steven Lindner, who represents portions of Ardmore, said.
Dranoff said he hopes most of the residents renting the new apartments will want to live there because of the close proximity to the Paoli-Thorndale line and probably won't have multiple cars.
As they can now in the surface lot, residents will be able to park in the new parking structure.
Klimczak also found out the six-story structure (the front of the proposed structure is eight stories) would align directly against her backyard so instead of looking at a parking lot, she'll now see a wall from her kitchen and bedroom. Behind Klimczak's yard is narrow sidewalk, which present plans eliminate, and it is also where trash collection takes place.
Margie Boyer, another West Athens Avenue resident, warned Dranoff he's building an apartment building in a bathtub.
"Our basements flood all the time because Ardmore is practically built over springs," Boyer said.
Commissioner Cheryl Gelber, the chair of the Ad Hoc Ardmore Committee, said the intricacies brought up by the West Athens Avenue resides are exactly why such meetings need to take place before the preliminary land development.
"I would not have thought of these things," Gelber said.
To see the presentation from Thursday's meeting, click here and select March 1.