Myth vs. reality: Choosing Henery over Akers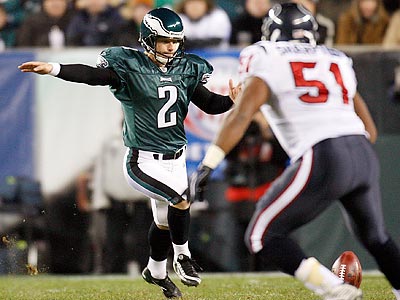 Perhaps the most surprising Eagles pick in last week's draft was Nebraska kicker Alex Henery in the fourth round.
Myth vs. reality: Choosing Henery over Akers

Perhaps the most surprising Eagles pick in last week's draft was Nebraska kicker Alex Henery in the fourth round.
And while Andy Reid isn't ready to concede that David Akers is gone, I think the rest of us see the writing on the wall.
So the obvious question is: Are the Eagles making the right decision?
Back in February, I wrote at length about Akers' performance, but it's worth another look now. Having just completed his 11th season as the Birds' placekicker at the age of 36, is Akers washed up? Is he elite? Is he clutch? Let's look at some of those questions.
ARE AKERS' BEST YEARS BEHIND HIM?
The answer is probably yes, but at the same time, there's been no down-curve over the last few years either. Here's a chart of how Akers performed on kicks of 40+ yards since he became the Eagles' kicker back in 2000:
| | |
| --- | --- |
| Year | Pct. on 40+ attempts |
| 2000 | 72.7% |
| 2001 | 69.2% |
| 2002 | 77.8% |
| 2003 | 61.5% |
| 2004 | 81.0% |
| 2005 | 54.5% |
| 2006 | 75.0% |
| 2007 | 20.0% |
| 2008 | 66.7% |
| 2009 | 75.0% |
| 2010 | 71.4% |
| Overall | 67.3% |
In 2009 and 2010, he was actually above average (based on his own standards) on kicks from 40+ yards. After a slump from 2005-2007 where Akers made just 14 of 29 (48.3 percent) attempts from 40+, he's rebounded well.
In terms of kickoffs, Akers had a career year, hitting touchbacks on 24 percent of his attempts - good enough for eight in the league.
HOW DOES AKERS COMPARE TO HIS PEERS?
Football Outsiders ranked the Eagles' field-goal unit ninth in the NFL last season. In other words, Akers might not have been elite, but he was still in the top third of the league.
In 2010, kickers made 259 of 376 attempts from 40+, which comes out to 68.9 percent. Akers was above average at 71.4 percent.
There were 31 kickers who attempted five or more attempts from 40+. Among that group, Akers ranked tied for 13th (with three others) in terms of percentage made.
Here's a look at the 12 kickers ranked ahead of Akers:
| | | |
| --- | --- | --- |
| Kicker | Pct. made from 40+ | Age |
| Rob Bironas | 90.1% | 33 |
| Adam Vinatieri | 90% | 38 |
| Shaun Suisham | 88.9% | 29 |
| Garrett Hartley | 88.9% | 24 |
| Matt Bryant | 81.8% | 35 |
| Billy Cundiff | 77.8% | 30 |
| Jason Hanson | 77.8% | 40 |
| John Kasay | 77.8% | 42 |
| Jay Feely | 76.9% | 34 |
| Josh Brown | 76.9% | 31 |
| Matt Prater | 75% | 26 |
| Neil Rackers | 72.7% | 34 |
A couple things to mention here. First of all, of the 12 kickers ranked ahead of Akers, seven kicked in either an indoor stadium or a stadium with a retractable roof at home.
The other thing is age. Seven of the 12 kickers ranked ahead of Akers are 33 or older. Only three are under 30.
DOES AKERS COME UP SMALL IN BIG SPOTS?
After Akers missed a pair of field goals in the playoff loss to the Packers, this was mentioned quite a bit.
But the truth is, Akers' percentage of makes in the postseason is almost identical to his percentage in the regular season. He's hit 81.9 percent in the regular season and 81.6 percent in the playoffs.
Prior to the Green Bay game, Akers had made 19 of his previous 20 field-goal attempts in the postseason.
DOES IT PAY TO PICK A KICKER EARLY?
Six kickers have been selected in the fourth round or earlier since 2000: Stephen Gostowski (New England in 2006); Mike Nugent (Jets in 2005); Nate Kaeding (Chargers in 2004); Jeff Chandler (49ers in 2002); Bill Gramatica (Cardinals in 2001); Sebastian Janikowski (Raiders in 2000).
So how have they fared? As a rookie back in 2006, Gostowski hit 10 of 15 from 30+ and 3 of 5 from 40+. In his five-year career, Gostowski has made 69.2 percent of his kicks from 40+, which is an average number.
Nugent was 7-for-12 as a rookie from 40+. He lasted four years with the Jets and has bounced around to three teams since then.
Kaeding was good as a rookie, making 80 percent of his attempts and 8 of 11 from 40+. He has made a pair of Pro Bowls and was named an All-Pro in 2009. However, he made just 4 of 9 from 40+ in 2008 and infamously went 0-for-3 in the Chargers' playoff game following the '09 season.
Chandler attempted just 27 kicks in his NFL career and was a bust.
Gramatica only attempted 48 field goals and was out of the league in four years.
And finally, Janikowski has been in the league for 11 years, but has never made a Pro Bowl. He hit on just 9 of 18 from 40+ as a rookie and has made just over 61 percent from 40+ in his career.
In other words, there have been hits, but there have also been misses. Of the six kickers listed, only Gostowski and Kaeding have made Pro Bowls.
THE BOTTOM LINE
The Eagles have been good under Andy Reid at letting veterans go before they go downhill. And we can't look past the fact that Akers was unhappy when the Birds assigned him with the transition tag. If the two sides felt they could work out a longer-term deal, the Henery pick probably never happens.
The key here is if Henery can come in and play at a high level right away. It seems clear that the Eagles feel they can win right now. And it's likely that Henery will be counted on to hit some big kicks as a rookie. The new kickoff rules (they'll start from the 35 yard line instead of the 30) should help Henery also, even though he did not handle kickoffs in college.
If he doesn't come through, and if Akers puts together three or four more quality years, this pick will be second-guessed.
But if Henery looks capable right away and goes on to play at a Pro Bowl level down the road, few will question the decision to take a kicker in the fourth round.
---
You can follow Moving the Chains on Twitter or become a fan on Facebook.